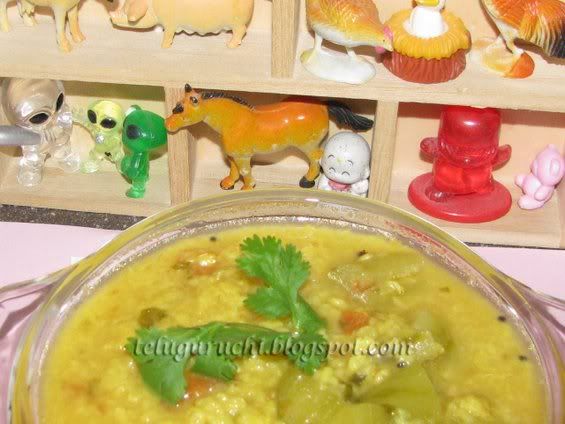 This is a very simple side dish which is very comforting and delicious. Coming to the health benefits, we all know all the lentils are good sources of protein. Lentils are also rich in calcium, vitamin B and iron. Ridge Gourd is a healthy vegetable too! It's rich in minerals, fiber, Vitamin C and lot more. It has an excellent cooling effect of our body.
Ingredients:
1 cup Tuvar Dhal (Kandi Pappu)
2 small Ridge Gourds
1 Tomato
2 or 3 Green Chilies
½ tsp Turmeric Powder
A pinch of Asafetida (Hing/Inguva)
½ tsp Mustard Seeds
¼ tsp Cumin Seeds
1 dry Red Chili, broken into 2 pieces (optional)
A handful of Cilantro Leaves (Kottimeera)
1 tsp Oil
Salt
Preparation:
Wash and pressure cook toor daal until soft.

Peel and chop ridge gourd into small pieces. Chop tomato and green chilies into small pieces.
In a pan/bowl heat oil and add mustard seeds. When they splutter, add cumin seeds + red chili + asafetida and stir well.
Then add ridge gourd pieces along with tomato and green chilies and mix well. Pour some water just enough to boil the veggies. Add turmeric and mix well. Then cover the pan and let the veggies cook well and become soft.
Later add cooked daal and mix well. Leave it on the stove on low flame until bubbles form on top and daal comes to a boil.
Finally add cilantro leaves and salt. Mix well and switch off the flame.
Enjoy this yummy daal with hot rice and some ghee. This is a very comforting food!!