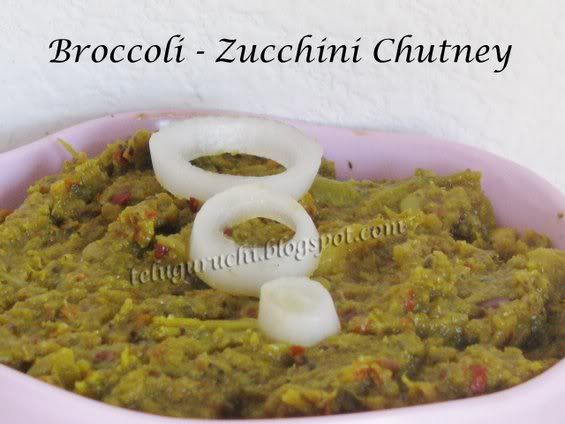 I recently prepared this interesting and delicious chutney. I don't like to eat broccoli in curry form or in salads due its odd smell/odd taste. But I still want eat them due to the health benefits broccoli possesses. So sometimes I add them in sambar or make chutney which suppresses the smell. For kids, I add broccoli in smoothies.
Ingredients:
2 cups Broccoli Florets
1 cup Zucchini Pieces
2 tsp Red Chili Powder (or as required)
½ tsp Mustard Seeds
¼ tsp Cumin Seeds
1 tsp Bengal Gram (Pachi Senaga pappu, Chana Dal)
1 tsp Black Gram (Minappappu, Urad Dal)
A handful of Cilantro Leaves
½ tsp Tamarind Pulp
2 tsp Oil
Salt


Preparation:
Heat oil in a pan and add mustard seeds. When they splutter, add cumin seeds + chana dal + urad dal and sauté well. When they become golden brown in color, add broccoli + zucchini pieces + cilantro and sauté well until they become little soft. Don't overcook them. Later transfer them to a plate and allow cooling.
Finally blend all of them into a fine paste by adding chili powder + tamarind pulp + salt. Add very little water if needed.
Enjoy this yummy chutney with hot rice and ghee. This chutney tastes great with chapathis too!!