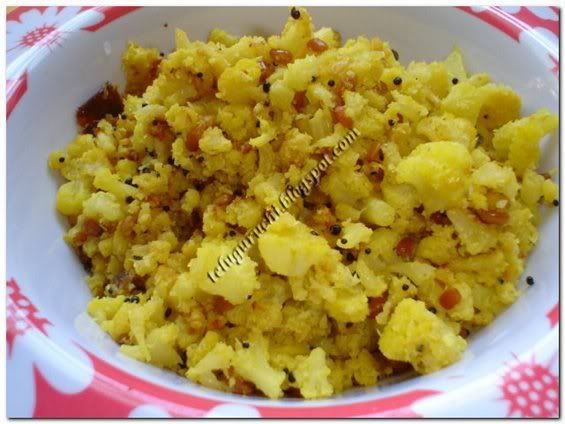 This is a simple and delicious curry made with cauliflower that goes well with rice. My kids like to eat cauliflower this way!
Ingredients:
1 head of Cauliflower
½ tsp red Chili Powder
1 or 2 tsp dry Coconut Powder
A pinch of Turmeric Powder
Salt


For Tempering/Seasoning:
1 or 2 tsp Oil
1 or 2 broken Red Chilies
½ tsp Mustard Seeds
¼ tsp Cumin Seeds
½ tsp Bengal Gram (Pachi Senagapappu, Chana Dal)
½ tsp Black Gram (Minappappu, Urad Dal)
A few Curry Leaves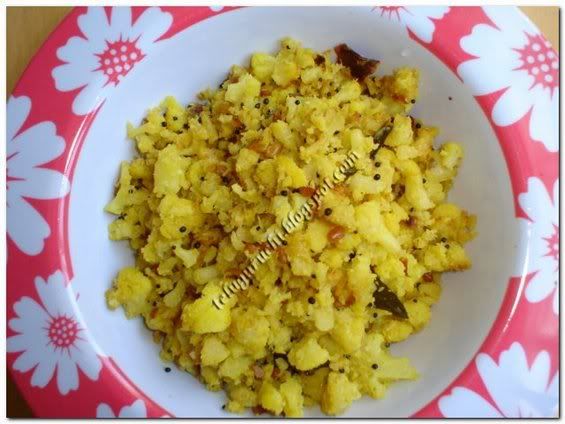 Preparation:
Thoroughly wash cauliflower, remove the stem and leaves and chop very finely. Keep aside.

Heat oil in a non-stick pan and add mustard seeds. When they splutter, add cumin seeds along with chana and urad dals and sauté until they turn golden brown in color. Add broken red chilies and fry for some time.
Then add curry leaves and chopped cauliflower along with turmeric and mix well. Cover and leave the pan for some time on low flame until cauliflower gets cooked and loses the raw smell. Keep stirring now and then. Sprinkle some water if needed.
When the raw smell from cauliflower goes away, add coconut powder, chili powder (if using) and salt and mix well. Leave the pan for some more time again. Be sure to keep the flame on low as this curry tends to get burnt easily.
When it's done, switch off the flame and transfer the curry into a serving bowl and enjoy with rice. Isn't it so simple?