This is just regular kesari which I made little healthy by adding carrot to it. I made this for my daughter's 10th birthday, which she recently celebrated. It came out so delicious and perfect.
Ingredients:
2 cups of grated Carrots
1 cup Semolina (Upma Rava, Sooji)
1 cup Sugar
A few Almonds (chopped), Cardamom Seeds and Raisins
2 or 3 strands of Saffron
1 cup Milk
1 cup Water
1 tsp Ghee (clarified butter)

Preparation:
Dry roast semolina until golden brown in color and keep aside.
Heat ghee and add cardamom seeds + almonds. Stir well. Add grated carrot and water. Cover and let the carrots get cooked and become soft.
Then add semolina along with sugar and milk and mix well. Add saffron too! Finally add raisins and mix well.
Cover and leave the pan on low flame for some time. When the mixture becomes thick, switch off the flame and transfer the contents to a greased plate.
Spread the kesari on the plate and let it cool for some time. Cut into to desired shapes and enjoy the yummy kesari any time of the day! This is very good as Neivedyam during festivals.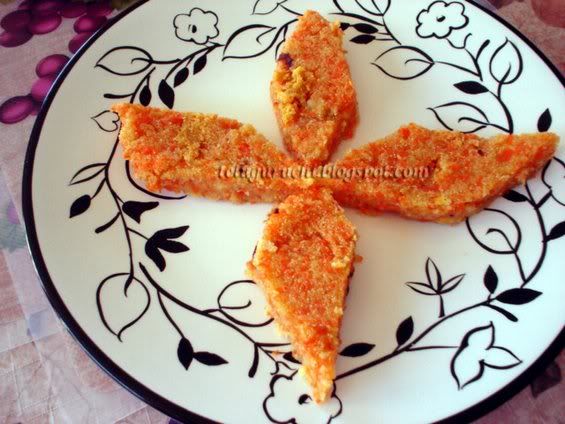 This is my contribution to Srivalli's "Mithai Mela" event.
On a Different Note:
Have you heard of "Head Lice"? Of course, you might have! Almost every one of us might have been the victims of these lice during our school days, don't we? I know how irritation these could cause! Check out my new post on "Head Lice and Prevention/Cure" in my other blog, where I discussed about this topic. Hope you like it! :)