Hope you all had a wonderful Vinayaka Chavithi!! We had a great one too!! Every year we celebrate it with very enthusiasm and devotion. This year I prepared some yummy treats for Lord Ganesha. These include Arati Kudumulu, Undrallu, Bajjilu (Besan Fritters), Nimmakaya Pulihora (Lemon Rice), Bellam Pongali (Sweet Pongal).
Before going to the recipe of banana modak, I would like to share few snaps of our puja at home. We prepared Lord Ganesh's idol at home with play dough that we made by ourselves. My daughter and I have created the idols. Look below.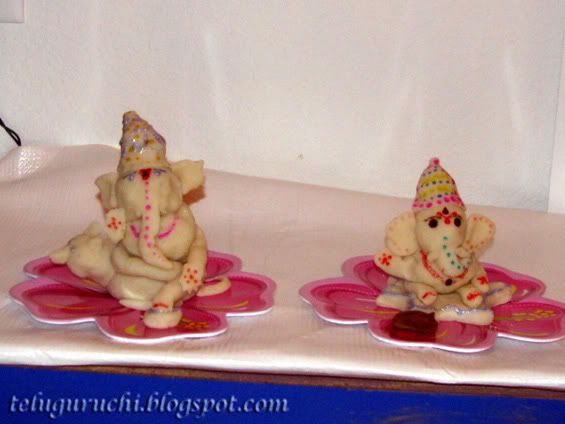 The idol on the left is made by my daughter and on the right by me. Later we realized that her idol looked like Daddy Ganesha and mine like Baby Ganesha. Don't you think so?
Few Snaps of our puja: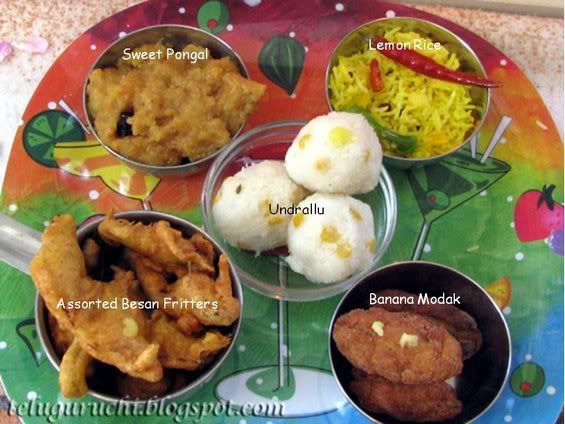 Now coming to the recipe for Banana Modak: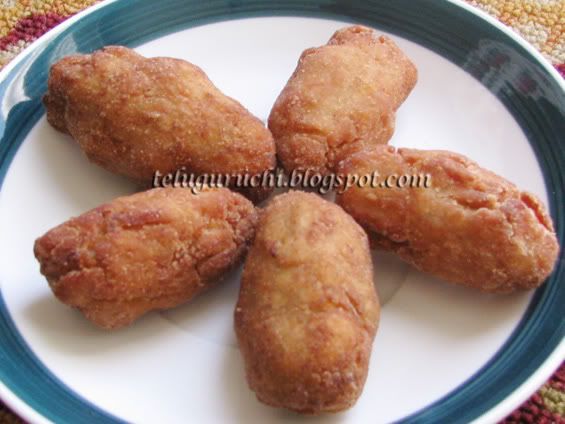 Ingredients:
2 cups Rice Flour
1 cup desiccated Coconut
3 ripe Bananas
½ cup Sugar

Oil to deep fry



Preparation:
Mash bananas well with a fork or hand. To this add all other ingredients except oil and mix well with hand. We don't have to add water as mashed bananas contain lot of water. Mix well until you get a soft texture. Keep aside.
Pour oil in a pan and heat. Take small portions of the prepared batter, make into desired shapes and drop into the hot oil carefully. Deep-fry until they turn golden brown in color and remove from the oil. Place on a paper towel to get rid of the excess oil. Repeat the same process with rest of the batter.
Offer these yummy treats to Lord Ganesha!!
Other treats I prepared for Lord Ganesha are:
Undrallu – For this I followed Sailu's recipe to the letter. Thank you for the easy recipe Sailu!! They turned out so delicious and perfect.
Lemon Rice
Assorted Fritters – These are made just in the same process I used for Variety Bajjis that I posted previously. But this time I used Green chilies, Cabbage Leaves, Red, Yellow and Green Bell Peppers for these bajjis.
Last but not the least, Sweet Pongal - for this too I followed my Chakra Pongali recipe that I posted previously. The only change I made was I replaced sugar with Jaggery (Bellam).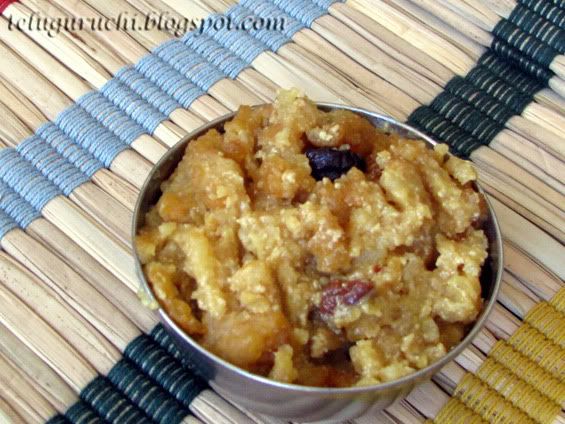 That was our treats for the holy occasion Ganesh Chathurdhi. How about you?
This is my contribution for "Janmashtami & Ganesh Chaturthi Event" hosted by Purva.
Check out our Ganesh Chaturthi Celebrations last year!