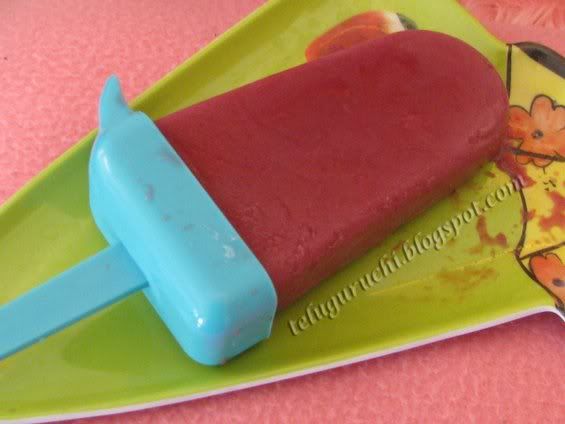 Here is why I called these pops super healthy:
Strawberries – These are rich in Vitamin C, Vitamin K, manganese, folic acid, potassium, riboflavin, vitamin B5, vitamin B6, copper, magnesium, and omega-3 fatty acids. Strawberries are proved to cure certain cancers, rheumatism, and constipation. They help in removing harmful toxins from the blood.
Cherries - These are rich in Vitamins C and A. Helps in preventing heart diseases. They also help in relieving pain from arthritis and headaches. In recent studies, it was proven that cherries help in weight loss too as they are low in calories, low in fat and contain a high percentage of water.
Milk - Rich in Calcium that helps build stronger bones so that reducing the risk of osteoporosis. It helps to develop good immune system. Milk even proved to provide healthy teeth.
Flax Seed Powder – These are rich in Omega 3 fatty acids, thus promoting bone health. They help reduce high blood pressure. Apart from these there are many fabulous health benefits of Flax Seeds. If interested to know more, please read here.

Ingredients:
3 cups Cherries, washed and deseeded
1 cup Strawberries, washed
2 cups Milk, fat free
1 tbsp Flax Seed Powder


Preparation:
Blend cherries + strawberries until smooth. Add milk and flax seed powder and blend again.
Note: I didn't add any sugar to this, so it wasn't so sweet. If anyone wants too sweet a small amount of sugar can be added while blending.
Filter the contents to remove excess pulp. Pour into ice pop moulds and freeze until set (approx. 4 to 6 hours).
To unmold these pops, just place the mold in warm water for 2 seconds or place under running water from the tap. They come out easily after 2 seconds.
Enjoy these yummy, healthy popsicles on a hot summer day or whenever you wish.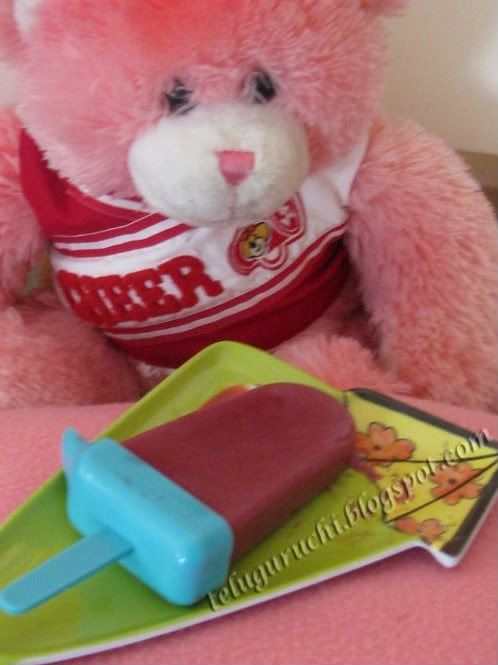 As I used milk in this recipe, I am sending this to "Fall In Love – Milk", hosted by Sanghi.
I am also sending this to "Cooking For Kids: Evening Snacks", hosted by Divya. This event is originally started by Sharmi of Neivedyam. Thanks for reminding me about the event Divya!!