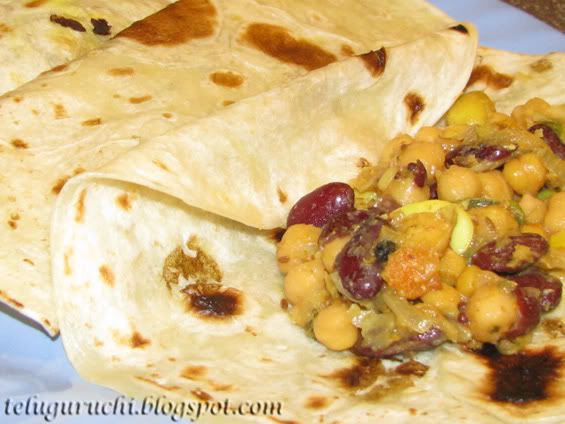 This curry is the fusion of many interesting ingredients, prepared by DH. It tasted so delicious and we enjoyed it a lot!!
Don't get scared by looking at the big list of ingredients. Preparation is soooo easy!!
Ingredients:
1 can of Chickpeas, drained and rinsed
1 can of Kidney Beans, drained and rinsed
1 can of Pineapple chunks (20 oz) equal to 2.5 cups, drained
Few Cashews
Few whole Almonds, soaked for some time and peeled
A handful of Yellow Bell Pepper, chopped
A handful of Orange Bell Pepper, chopped
A small piece of Ginger, peeled and chopped
3 or 4 Green Chilies, chopped

A pinch of Turmeric Powder

1 tsp Garam Masala
1 big Carrot, peeled and cut into small pieces
¼ cup Green Peas, frozen
¼ cup Corn, frozen
1 small Onion, chopped
2 or 3 dry red Chilies
½ tsp Soya Sauce
¼ tsp Cumin Seeds
2 tsp Oil
Salt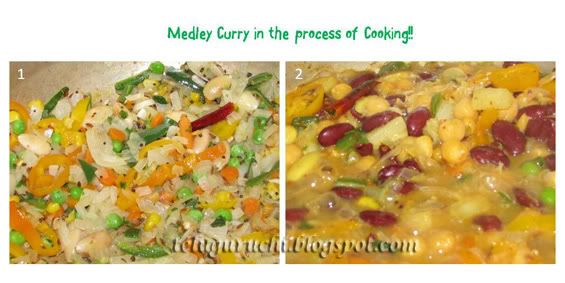 Preparation:
Heat oil in a pan and add cumin seeds. Stir well and then add cashews + almonds + red chilies and sauté well.
Then add all the other ingredients and sauté well. Add some water, cover and keep the pan on medium flame until the veggies are cooked and all the water gets absorbed. Adjust salt.
This curry goes well with chapathis.
I am sending this curry to 'Side dish for chapathi' event hosted by Viki of Viki's Kitchen.
Thank you Sanghi and Viki for reminding me about the event .
On a different Note:
Dear Ann of Happy and Healthy Cooking has passed Kreative Blogger Award and the tag. Thanks for your nice gesture Ann!!
Last but not the least, here are few snaps of my rose babies from our little garden. Our new rose plant just started blooming!!