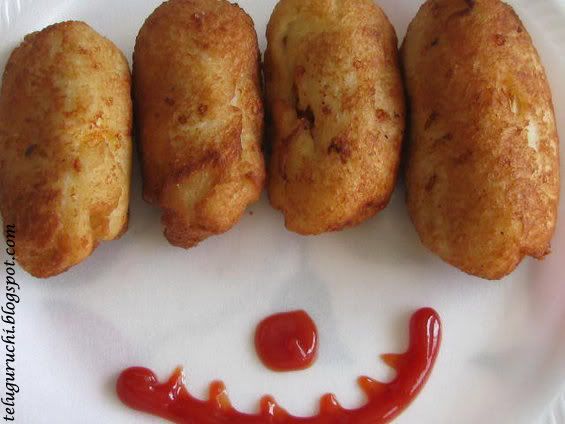 I saw these bread rolls in Medhaa's blog long back and bookmarked to try. Now I found a reason to make them today. Yeah, you guessed right! For "MBP: September – Say Cheese" event taking part at Siri's corner, we have to cook something from other bloggers! So I made these delicious bread rolls for that cheesiest event.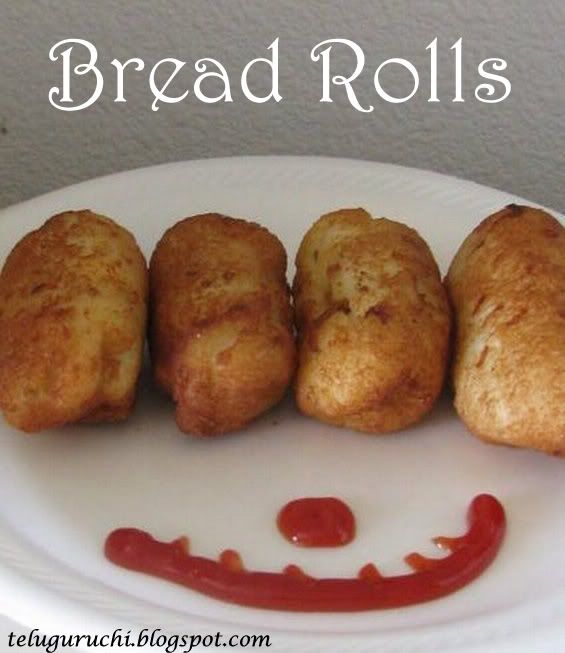 I didn't make any changes to the
original recipe
. For the filling I used Filling 1 (Mixed Vegetables) as suggested in the recipe. I just omitted cilantro (actually I forgot, he he). I tried the baking version at first, but couldn't get the rolls perfect. So tried the deep-fried version again and voila! The bread rolls turned out perfect and delicious and irresistible. Thank you for the yummy recipe dear Medhaa! We all enjoyed the rolls so much, so will be making these often. Do visit
Medhaa's blog
for many delicious and easy Sindhi recipes.
Updated to add the recipe on friends' request:
Here are the ingredients and procedure I followed to make these delicious Bread Rolls:
Ingredients:
4 loaves of Bread

1/2 cup of mixed Vegetables for filling (I used the mixture of grated carrot, finely diced onions and green chillies and some red bell pepper pieces)

1/4 cup of grated cheese (any kind) (I used 4 cheeses used for pizzas)

A handful of Cilantro

Oil to deep fry

Salt to taste
Preparation:
Mix together all the ingredients except oil and bread and keep aside.

Remove edges of the bread slices and keep aside.

In a plate pour some water or milk, dip each bread slice and gently squeeze out the excess water or milk by pressing the slice with your both palms.

Place some portion of the prepared mixed vegetable mixture in the center of each slice and bring the sides together to seal the edges completely and try to make an oval shape.

Do the same with rest of the slices.

Heat the oil in a deep-bottomed pan and add these prepared bread rolls one by one carefully.

Fry the rolls until those turn golden brown in color. Then take the rolls out of the oil and spread on a paper towel to absorb excess oil.

These rolls are at their best when eaten hot. Enjoy with ketchup or any chutney.
These delicious bread rolls are my contribution for two events:
½ cup of cheese was used in this recipe which is very rich in calcium and many other nutrients. So the rolls are entering dear Sangeeth's "

Eat Healthy – Calcium Rich

" event too.