I feel like eggplant (brinjal) and yogurt go so well together. Take baingan bharta, dahi baingan, how delicious those are! Most importantly, eggplant is my favorite vegetable; especially I like the stuffed curry with eggplant. I think whatever you make with eggplant, say curry, gravy, chutney, raita, it just tastes divine. Alright, that's enough praising the king! Let's dig into the recipe.
Eggplant – Yogurt Pachadi (వంకాయ పెరుగు పచ్చడి)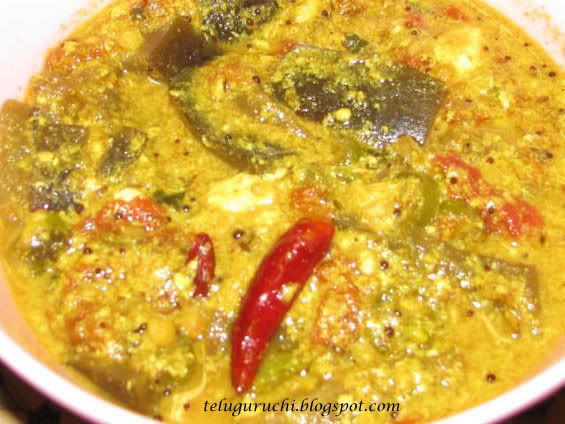 Ingredients:
1 cup Eggplant pieces, cut into thin strips or cubes
1 cupYogurt
2 or 3 green Chilies cut into small pieces
A small piece of Ginger cut into tiny pieces (Optional)
1 small Tomato cut into small pieces
A handful of Cilantro
¼ tsp Turmeric Powder
Salt as required
For Seasoning:
½ tsp Mustard Seeds
¼ tsp Cumin Seeds
2 broken dry red Chilies
Some Curry Leaves (I didn't add these as I don't have them at hand)
½ tsp Bengal Gram (Pachi Senagapappu, Chana Dal)
½ tsp Black Gram (Minappappu, Urad Dal)
½ tsp Oil


Method:
Add the eggplant pieces + green chilies + tomato + ginger + cilantro in a microwave safe bowl. Add a little amount of water (½ cup approx.) to the eggplant mixture, cover and microwave for 10 minutes. Let it stand for one minute. Then open the lid carefully as it will be so hot and check if the vegetables are cooked. If not, increase time as required and microwave again, covered. Then mix the contents well. Keep aside.
Meanwhile, add turmeric and salt to yogurt and mix well. Add this yogurt to the eggplant mixture and microwave again for 3 minutes. Take out the bowl from the microwave, mix well and adjust salt.
Now, it's time to season the yogurt pachadi. In a small pan pour the oil and add mustard seeds. When they start to splutter, add the cumin seeds + Bengal gram + black gram and finally red chilies and don't forget curry leaves, if using. Fry well until the dals change color. Add this seasoning to the yogurt pachadi. Mix well and enjoy hot or cold with rice or chapathis.
This is my contribution to dear Sangeeth's "Eat Healthy – Calcium Rich" event.
I used a cup of low-fat yogurt in this recipe, which is rich in so many nutrients, especially calcium. It has been proved that yogurt plays an important role in burning fat too! So a cup of yogurt a day is so good for keeping good health.
Check out Karuna's post on "Regional Cooking of India" to learn about different cuisines of south India.