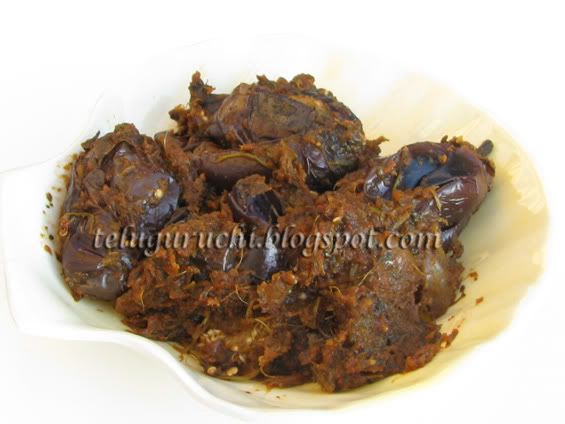 Do you like Gutti Vankaya Koora (Stuffed Eggplant)? Me too!! There are many variations in gutti vankaya koora. I already blogged about a usual kind of stuffing I use for eggplant. This is another kind of stuffing I make sometimes. This gives a different taste than the usual gutti vankaya koora, but tastes equally delicious. And this involves less work too!!
Ingredients:
6 Baby Eggplants
A handful of Cilantro Leaves
1 small Onion, cut into medium pieces
4 or 5 Green Chilies (depending on the taste)
½ tsp Tamarind Pulp
Pinch of Turmeric Powder
Salt
1 tbsp Oil
Preparation:
Grind cilantro + onion + green chilies + turmeric + tamarind pulp into a fine paste. Add little water if needed. Keep aside.
Wash eggplants well and make slits just like in the picture. Keep the stems intact and make the slits on the other side.
Stuff these eggplants with the prepared cilantro paste. Fill all the slits.
Heat oil in a pan and add these stuffed eggplants. Cover and allow them to cook for some time. Adjust salt if needed.
When the eggplants look soft and cooked, turn off the flame and transfer the contents to a serving bowl.
Enjoy the delicious curry with steaming hot rice.