I recently bought a big pack of canned Pineapple chunks as I wanted to try some recipes with pineapple. For the first recipe, I tried using pineapples in a curry form that would go well with chapathis. First I just added chickpeas to it, but later wanted to add kidney beans too, just wondering how they will taste with pineapple. But to my amazement, they all co-operated very well and turned into a delicious, aromatic and colorful curry within minutes.
This is so easy and fast recipe. Here it goes:
Ingredients:
1 can of Pineapple chunks (20 oz) equal to 2.5 cups, drained
1 can of Chickpeas (14 oz) equal to 1.75 cups, drained
1 can of Kidney Beans (14 oz) equal to 1.75 cups, drained
1 medium sized Potato, peeled and chopped into cubes
A handful of Cilantro Leaves
Some Curry Leaves
4 or 5 Green Chilies
½ tsp Turmeric Powder
1 tsp Oil
¼ tsp Cumin Seeds
Salt to taste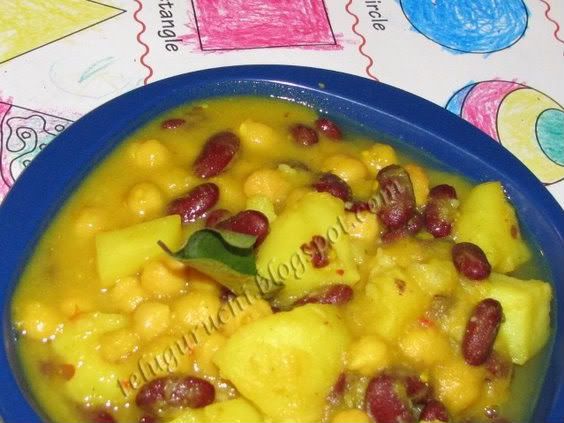 Preparation:
Grind together pineapple chunks (don't add juice) + green chilies + cilantro into a fine paste. No need to add water as pineapples already has some juice in them. Keep aside.
In a pan add chickpeas + kidney beans + potato pieces + curry leaves + cumin seeds and oil. Mix well, add ¼ cup water and turmeric, cover and leave on medium flame until all the water is absorbed and potatoes are cooked well (approx. 5 minutes).
To this, add the pineapple paste and mix well. Leave the pan for 5 more minutes until all the pineapple essence is absorbed and turn off the flame. Don't let the curry to become too dry. It should be moist and gravy like (look at the picture). Adjust salt.
Transfer the yummy curry into a serving bowl and enjoy with your rotis/chapthis.
Hope you liked another crazy but yummy creation from my kitchen!!