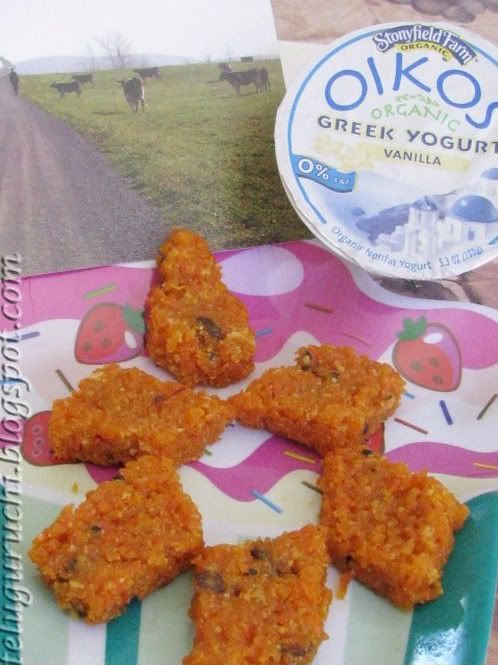 As today (June 8) is our marriage anniversary, I would like to celebrate with this sweet post. I made this yummy dessert using Oikos Greek Yogurt. I heard a lot about this Oikos Greek Yogurt before but never tried it in my cooking before and never ate some. After tasting a spoonful of this yogurt, I realised what I was missing. It was so yummy, smooth, thick and creamy. And one better thing is this yogurt is fat free and is so healthy.
Here is how I got acquainted with this delicious Greek Yogurt:
Few days back, I received an email from Kristina, of Stoneyfield Farm that produces many yummy varieties of organic yogurts, smoothies and milk. She asked me if I am interested to try a very famous Oikos Organic Greek yogurt. I said yes, and she has sent me coupons for the same and a cute tote bag. Thank you Kristina!!
I bought two varieties of Oikos Organic Greek Yogurt, one vanilla and one honey!! I searched on the internet for some interesting recipes using Greek yogurt, but none attracted me. So I decided to make my own creation with mixing and matching ingredients. Finally I settled on this yummy carrot fudge. I used Vanilla flavored Oikos Organic Greek Yogurt for my fudge. I reserved honey flavored one for some other interesting recipe, which I will post soon.
What is the difference between regular yogurt and Greek yogurt?
The difference between Greek yogurt and regular yogurt is in the amount of liquid, or whey, that remains after the yogurt sets. Greek yogurt is strained to remove most of the whey, creating a thick condensed yogurt. The straining process increases the protein and reduces the lactose, making the final product very healthy and delicious. Source: From here.
Now coming to the recipe details:
Ingredients:
2 cups grated Carrot
½ cup Oikos Organic Greek Yogurt
1 cup Sugar
¼ tsp Cardamom Seeds
Few Raisins
2 or 3 strands of Saffron (Optional)
½ cup Water
2 tbsp unsalted Butter
2 tsp Custard Powder

Preparation:
Melt butter in a non-stick pan and add cardamom seeds + carrot + sugar and mix well. Pour water and let the carrot cook for some time.
When carrots become soft and all the water gets absorbed, add yogurt along with raisins + saffron and stir well.
Keep stirring until the mixture becomes thick and leaves the sides of the pan. Finally add some custard powder and stir well. After some time the carrot mixture gets thickened.
At this point, turn off the flame and transfer the contents into a greased plate and press firmly. Allow it to cool for some time and cut into desired shapes. This fudge is so soft and chewy and yummy. Enjoy the yummy fudge any time of the day!!
This fudge has a little tint of sourness due to the yogurt added, still tastes great!!
Tip: If you think the pieces are not coming out good, place the plate in the refrigerator for some time and the pieces come out perfect. But keep in mind that the fudge will be soft and chewy even if you placed it in the refrigerator for a long time.