This is a simple coconut laddu, dressed in pretty pink. It's like a snowy angel wearing a pink mask! Taste and beauty remained the same, just the apparel changed. I think it looked so cute in pink. Everyone at our home liked the color and the taste of these laddus. Here is an example: "At first my hubby clicked some pictures as soon as I made these. The pictures looked ok to me, but when I looked at them on the computer screen, they looked little dark. So I wanted to retake the pictures with some light and went for the laddus. I was amazed to find only 3 laddus were left (check the last picture)!! I was happy that everyone liked them, but sad that I couldn't take some more pictures."
Ingredients: (Makes 10 medium Laddus)
3 cups desiccated Coconut (dry)
2 cups Sugar (or less if semisweet is desired)
1 tsp Ghee
¼ cup Milk
¼ cup slivered Almonds
¼ tsp Cardamom Seeds
2 drops of Red Food Color (Optional) (As I don't have Pink Food Color on hand I used this)
A few Raisins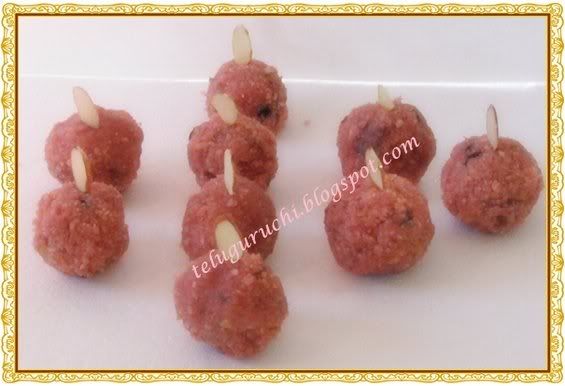 Method:
Heat ghee in a non-stick pan and add almonds along with cardamom and fry till almonds turn golden brown in color.
Add coconut + sugar + raisins and mix well. Keep stirring till coconut turns golden brown in color. Don't let it burn too much. Keep the flame on med-low.
Add food color (if using) at this point and mix well so that coconut mixture is coated well.
Finally add milk and keep stirring until the mixture thickens and leaves the sides of the pan. Switch off the flame and let the coconut mixture cool down for a while just until it is easy to touch.
Note: Don't let the coconut mixture cool completely as it hardens quickly and it will be difficult to roll into balls.
When it is just cool to touch take small portions and roll into a ball with hands. Place on a plate to dry.
Enjoy these delicious and pretty coconut laddus any time of the day! They make a perfect dessert.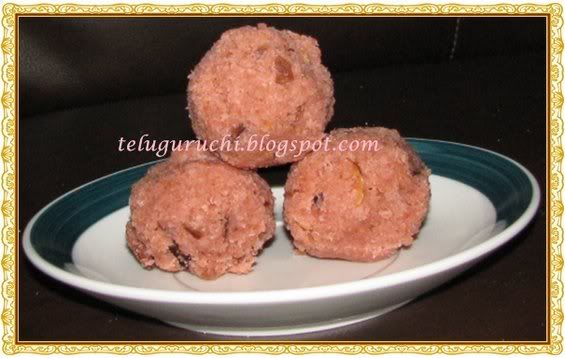 This is my contribution to the following events:
"Holi Hai", hosted by Purva.








On a different note, a big thanks to Lakshmi and Anisheetu for the shower of awards. So sweet of you to think about me!