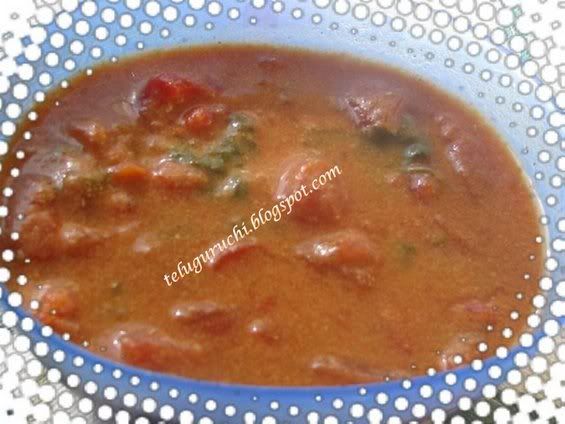 If you're a sour lover, you would love this gravy. This is very aromatic and tasty with a tinge of sourness. This is the easiest gravy to make and enjoy! I usually add milk at the end, but this time I wanted to see how it would taste if I add yogurt and it turned out so yummy.
I know, the pictures didn't come out that good as it was so cloudy that day when I took the pictures.
Ingredients:
4 Tomatoes, chopped
1 small Onion, chopped
2 tbsp plain Yogurt
2 or 3 Green Chilies, chopped fine
Some Curry Leaves
A handful of Cilantro
½ tsp Cumin Seeds
A pinch of Turmeric Powder
1 tsp Oil
Salt to taste
Method:
Heat oil in a pan and add cumin seeds along with all the chopped veggies and sauté for some time until the onions and tomatoes become soft and cooked. Add turmeric, curry leaves and cilantro to the above mixture and stir well.
Keep the flame on low setting. When all the water from the tomatoes is gone and the mixture becomes thick, add salt and stir in yogurt. Mix the contents well and switch off the flame.
This tomato gravy goes very well with rotis and also rice.
This is my contribution to "Fall in Love – Tomato", hosted by Sanghi.