On Saturday we celebrated the housewarming party at our new house. We had a nice gathering and enjoyed every bit of the party. So I was so busy planning the menu and making the arrangements. I didn't make any dish as it was a huge gathering, so ordered from the restaurant.
And you know what? This post happens to be 200th post!


Coming to today's recipe, one day my daughter said she wants to prepare something sweet all by herself. She wanted to bake something. I was reluctant at the beginning as I myself is a novice in baking, but said ok go ahead, I will help you in the process. But she rejected my help and said she wants to do it all by herself. How can anybody trust a 9 yr old and leave the entire kitchen to herself? We argued a little bit and she said I could help her if she finds it's difficult for her to manage. So I googled for an easy recipe for her baking experiment, but landed on this yummy recipe that involved no baking (phew!). She liked the recipe too! So here is the creamy fudge my daughter prepared entirely (I was peeking though)! I helped her with the stove and the can-opening. It turned out so delicious and she got thumbs up from everyone for her culinary adventure! Of course this is not her first adventure; she made this yummy Strawberry-Banana Smoothie that I published long back.
We got the original recipe from here and we used the readily prepared graham crust instead of making it from scratch.
Ingredients:
9" Keebler Graham Pie Crust – 1


1 can Sweetened Condensed Milk


3 oz. Cream Cheese - Softened


3 cup Semisweet Chocolate Chips


1 ½ tsp Vanilla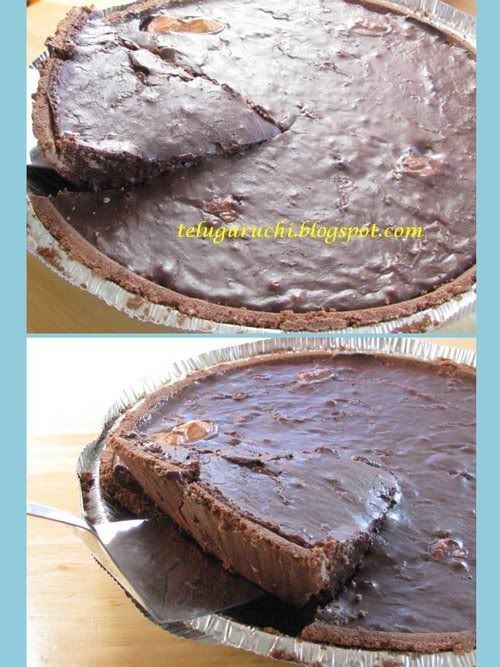 Preparation:
Add chocolate chips + condensed milk + vanilla in a non-stick pan and stir until the chips are melted.
Remove from heat and stir in the cream cheese. Mix well.
Pour this mixture into the pie crust and spread evenly. Cover and store in the refrigerator until it becomes firm.
When done, cut into triangles and enjoy with whipped topping or just like that!
Don't you think it looks yummy?