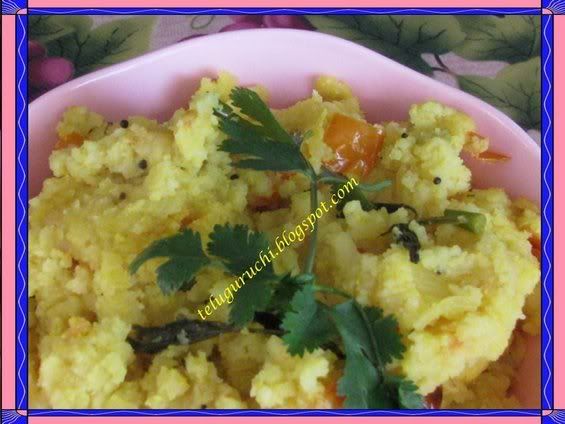 This is the easiest, quickest and yummiest breakfast. Poha means Beaten Rice. It is rice which is dehusked and beaten to make small flat flakes. We call them ATUKULU in Telugu. Here is my version of Poha Upma.
Ingredients: (Serves 2)
2 cups Poha
1 Tomato, chopped fine
1 small Onion, chopped fine or lengthwise
4 small Green Chilies or more, chopped fine
1 dry Red Chili, broken into 2 pieces
A handful of Cilantro
3 tbsp Plain Yogurt
¼ tsp Turmeric Powder
Salt as required
A small piece of Ginger, peeled and chopped fine
A few Curry leaves
A few drops of Lemon Juice (Optional)
For Seasoning/Tempering:
½ tsp Mustard seeds
¼ tsp Cumin seeds
¼ tsp Begal Gram (Pachi Senagapappu, Chana Dal)
¼ tsp Black Gram (Minappappu, Urad Dal)
2 tsp Oil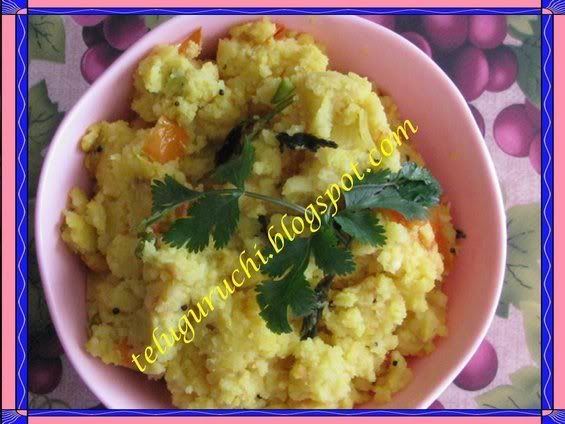 Method:
Wash well and soak poha in water for 10 or 15 min.
Meanwhile, heat oil in a pan and add mustard seeds. When they splutter add cumin seeds + Bengal gram + black grams and fry well until the dals turn golden brown in color.
Then add chopped onion, green chilies, red chili, tomato, cilantro, and ginger, curry leaves and fry well for some time.
Later add plain yogurt and turmeric powder to the onion mixture and mix well until well coated. Leave the mixture for some time until the onions are tender and well cooked.
Squeeze out the excess water from soaked poha and add to the pan and mix well. Adjust salt.
Leave the upma for some time on low flame until poha absorbs the flavors well. Add some lemon juice, if desired and mix well. When done, transfer upma to a serving bowl and enjoy with desired chutney.
This is my contribution to: FIC: Yellow" event hosted by Sunshinemom of Tongue Ticklers.