Yes, a very happy birthday! But not for me, for my dear blog who will turn a year old tomorrow (17th January). I can't wait till tomorrow, so celebrating the happy occasion today itself. HAPPY BIRTHDAY DEAR BLOG!
My journey so far has been amazing and exhilarating. I have made so many experiments in food than before and learned so many different cuisines along the way! Initially I started the blog with an intention of sharing the recipes of pickles and spice powders, but couldn't resist myself to just one or two categories. So my blog cherished so many different recipes. My family has been so supportive all the time and I hope it continues. They are the best critics of all my food experiments! I would like to thank my dear hubby for being so supportive and helping me so much with the pictures.
When I started the blog, I just had a few friends, but now I have a big family of friends! I am blessed with so many friends who have been giving me tremendous support and inspiration. They have been so kind in showering me with many awards and prizes! Thank you dear friends and dear readers for visiting and encouraging me all the time! I also wish to thank all the blogs (I can't list all of them, as there are many) for being inspirational to me with amazing pictures and yummy creations!
I am so happy that I entered the beautiful world of blogging or else I wouldn't have made so many amazing friends and learn so many new things! I wish to celebrate this happiest occasion with a delicious sweet! Actually I made it for Sankranthi, but thought it would be perfect for the birthday celebration. :)
Ingredients: (Makes 10 medium Laddus)
1 cup Chickpea Flour (Senagapindi, Besan)
½ cup Coconut, desiccated
1 cup Sugar
4 tsp Ghee
¼ cup Milk
Some Raisins
Some Cashews, roasted
¼ tsp Cardamom Seeds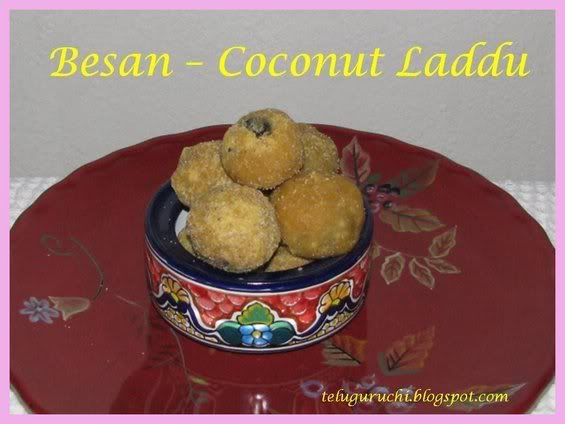 Method:
Pour 2 tsp of ghee in a non-stick pan. When it melts, add cardamom seeds and fry for a little while (2 sec). Then add besan and stir until it loses the raw smell.
Later add coconut along with sugar and stir for some time. Keep the flame on low. Be careful not to burn the besan mixture. Stir continuously. Add rest of the ghee and mix well.
Finally add raisins and cashews and stir again. Pour the milk and stir faster so that no lumps are formed.
Switch off the flame and roll into balls when the mixture is still warm. Don't let the mixture cool down to roll the laddus, as it tend to become dry very soon.
Leave the balls on a plate for some time to dry and store in an airtight container.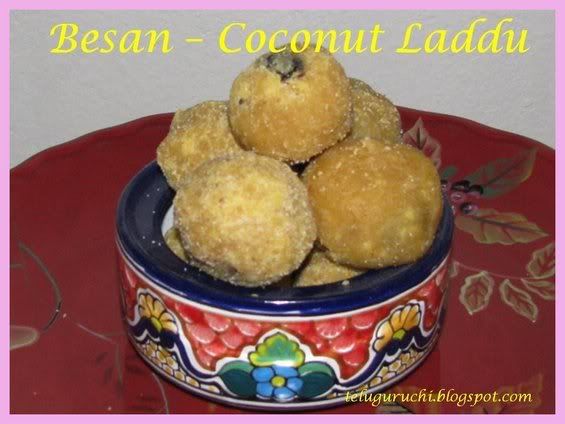 This is my contribution for the following events:



"

FIC: Yellow

" event hosted by Sunshinemom of Tongue Ticklers.