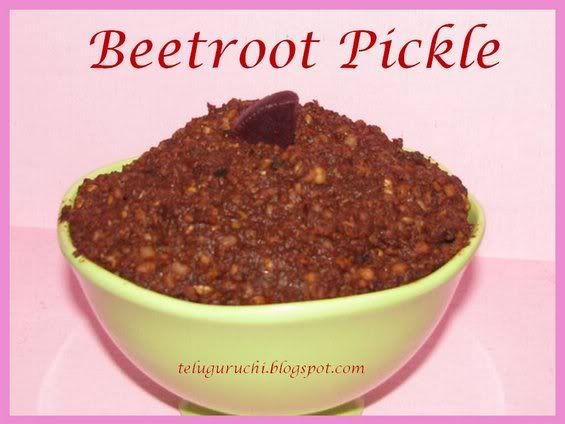 As we all knew, beetroot is an amazing blood cleanser. They are loaded with vitamins A, B1, B2, B6 and C. They also have so many medicinal values as they are rich in iron. I usually make a pickle out of these beets as we don't like the simple beetroot fry.
Ingredients:
2 cups Beetroot, skin removed and cut into small pieces (I used canned beets)

½ cup Black Gram (Urad dal, Minappappu)
¼ cup Coriander Seeds (Dhaniya, Dhaniyalu)
¼ tsp Fenugreek Seeds (Methi, Menthulu)
1 tbsp Tamarind Pulp
2 tsp Oil
¼ tsp Asafetida (Hing, Inguva)
5 or 6 Red Chilies
10 Curry Leaves
¼ tsp Mustard Seeds
Salt

Preparation:
Cook the beetroot pieces with some water until they become tender, but don't let them get too mushy. Drain water and keep aside. As I used canned beets, I didn't have to cook them again.
In a pan heat 1 tsp oil and add the beet pieces. Fry for 5 to 10 minutes and transfer to a plate. In the same pan heat rest of the oil and add mustard seeds. When they splutter, add coriander seeds + fenugreek seeds + red chilies + curry leaves + asafetida and sauté till the coriander and fenugreek seeds turn into golden brown color. Again transfer these into a different plate.
Finally add urad dal and fry till they become golden brown in color. Switch off the flame and let the ingredients cool for some time.
Then, add the mustard + coriander + fenugreek mixture in a blender and grind until they are powdered well. Then add the beet pieces along with tamarind pulp and little water (not too much) and grind into a fine paste. Finally add the fried urad dal and run the mixer again until the dal mixes well with beet mixture. Make sure not to grind the dal into very fine consistency as the crunchiness of the dal gives the pickle a unique taste.
Enjoy this yummy and spicy pickle with hot rice and ghee.