My little one recently visited a local pumpkin patch with her school and brought home a little pumpkin which is so cute like her! Look at the pumpkin! Isn't it cute?
She placed the pumpkin in my hands and asked, "Mommy! Can you make me a pumpkin pie?" I told her OK and forgot about it. But she didn't! Finally I decided to make the pie today and started searching for pumpkin pie recipes on the internet. Most of the pumpkin pie recipes involved lot of work. I am little lazy to do that much work to cook something. So I wanted to make something easier, but definitely a pie! With some imagination, I came out with this recipe that looked good and tasted great!
Ingredients:
1 small pumpkin (like in the picture) (makes 2 cups of pulp)
1 tbsp unflavored Gelatin 2 tsp Agar Agar
1 tsp Vanilla Extract
½ cup Sugar
1 cup boiling Water
1 (9 inch) graham cracker crust (prepared one)
Method:
Wash the exterior of the pumpkin, remove the stalk and cut it into half like in the picture.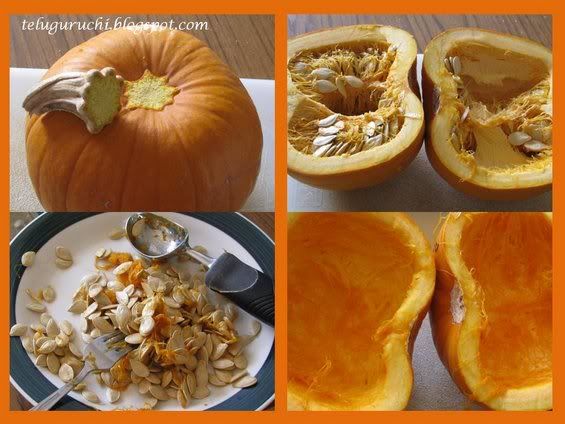 Remove the seeds and the stringy stuff inside by scraping with an ice cream scoop. I saved the seeds to make spicy pumpkin seeds powder, that goes well with rice.
Pour a cup of water in a microwave safe bowl and place the pumpkin pieces in it. If the pieces are too big to fit in the bowl, cut them into little pieces. Then cover the bowl and microwave on high power for 15 minutes.
Check if the pumpkin is soft and easy to be scooped out. If not, increase the time as needed. Leave the bowl for some time till the pumpkin pieces are cool enough to touch. Then scoop out the flesh, mash well with a fork until it becomes soft and fluffy. Add little water if needed. Then add the vanilla extract and mix well. Keep aside.
Later prepare the gelatin agar agar mixture. Mix gelatin agar agar and sugar in a small bowl. Add boiling water to it and stir it untilgelatin agar agar completely dissolves.
Add the gelatin agar agar mixture to the pumpkin mixture and mix well with a spoon. Pour this into the prepared crust. Refrigerate until the pie sets and becomes firm, approximately about 3 hours.
Garnish with whipping cream and enjoy.
My Notes: As I used only ½ cup of sugar in this recipe, the pie didn't taste so sweet. I think we better add 1 cup of sugar to make it sweeter.
This is my contribution for Madhuram's "AFAM: Pumpkin" event. "A Fruit A Month (AFAM)" was the brainchild of Maheswari.
I am also sending the Pumpkin Seeds Powder, which I posted long back to the above event.
On a different note:
Thanks Priya and Rekha for passing the "chocoholic award" to me. So sweet of you!
Who can resist chocolates! I haven't made any recipes with chocolates though! I always buy those from the store. White chocolate is my most favorite kind of chocolate.
I would like to pass this award to:
Congratulations Friends!
And I also would like to thanks Daily Meals for passing me the "Butterfly Award". Thanks for your nice gesture DM!