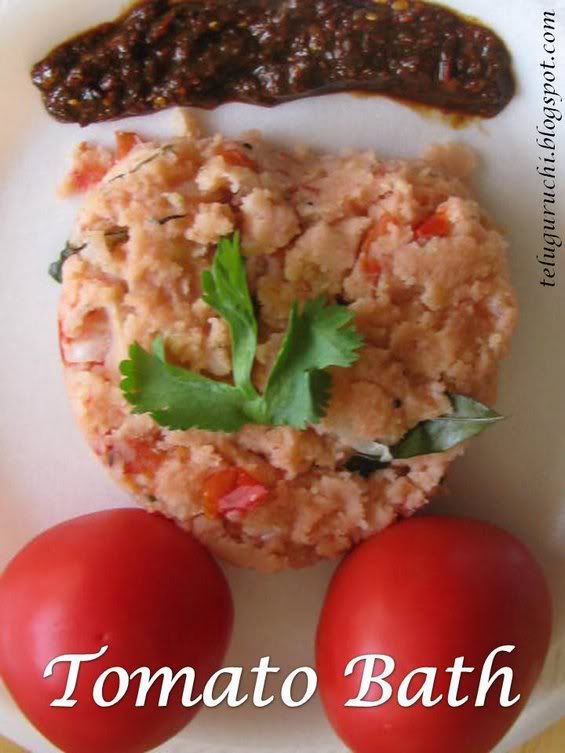 This month we will be cooking the recipes from Indira's Mahanandi for Tried & Tasted event hosted by Zlamushka. Indira needs no introduction, I guess! She has been the inspiration for many bloggers, I was no exception. Her site is like an encyclopedia of cooking. She provides a lot of information for a particular ingredient or recipe which will be so helpful to everyone.
I liked the way she prepared the simple tomato bath and made it so appealing both for the eyes and the stomach. So I wanted to make my favorite tomato bath in Indira's style. It was so delicious and colorful too. Thanks for such a delicious recipe Indira!
I followed Indira's original recipe to the letter, but I don't know why I couldn't get that vibrant color like Indira's! The only change I made was replacing green peas and charoli nuts with cashews! Even though I couldn't get that bright color, the tomato bath tasted so delicious. We enjoyed it with spicy red hot chili pickle (recipe coming soon!).
This is my contribution to Zlamushka's Tried & Tasted event. Thanks for hosting such a nice event Zlamushka! It's paving us the way to explore different blogs and try their wonderful recipes.
On a different note, I would like to thank Vibaas and Suma Rajesh for passing me the beautiful "Butterfly Award". Thank you ladies, so nice of you to think about me!