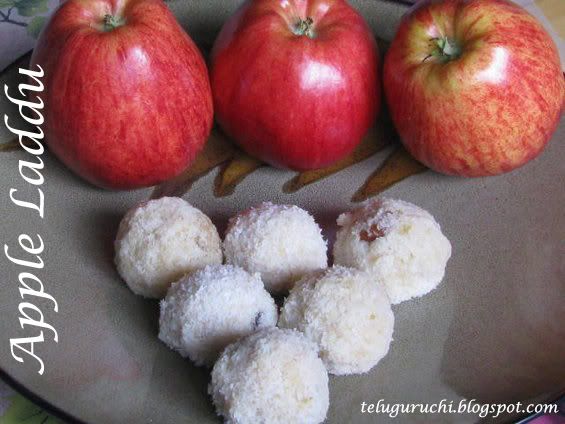 Laddus are the yummiest sweets, don't you agree? During one of the navarathri festival days, I felt like making some laddus, but not like the regular ones. I wanted to make something new that was never made before. At that time, the mighty apples taking rest in the fruit basket caught my attention. So I wanted to give a make-over to those with a touch of sweetness. As a result, these laddus came to life! I am glad I thought of it and this recipe occupied my recipe list during parties.
Ingredients: (makes 27 medium Laddus)
3 big Apples (like in the picture)
1 can of Condensed Milk
1 cup desiccated Coconut
Some Cardamom Seeds
Some broken Cashews
1 tsp Ghee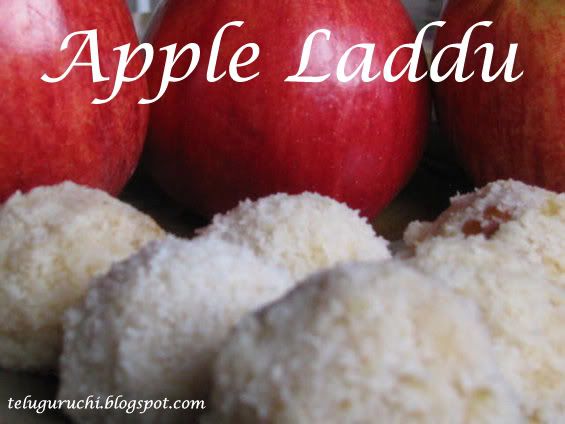 Preparation:
Peel, core and grate apples. Keep aside.
In a non-stick bowl, add ghee, cardamom seeds and cashews. Stir until the cashews turn golden brown in color.
Then add the grated apples and stir well. After some time add coconut and mix well.
Finally add condensed milk and mix well. Leave the mixture on a medium flame until it thickens. Keep stirring frequently.

When the apple mixture thickens, transfer the contents into a plate and leave until it cools enough to touch.
Then take a small portion of the apple mixture and shape it into a ball. Repeat the same process with rest of the mixture. If the apple mixture is still warm to handle, in a plate take some cold milk, dip your hand in it and make the balls so that your hand won't burn.
Roll these laddus in shredded coconut to give them good looks and make them more delicious.
Leave the laddus on the plate for some time and later store them in an airtight container.
But I have to tell you one thing here: these laddus are not hard like other laddus. These are little soft in texture, but I must say they tasted heavenly. These laddus can be stored in a refrigerator (up to 10 days) to give a long life.
These yummy festival sweets are my contribution to these events:
"Yummy Festival Feast – Diwali" hosted by Pallavi.
"JFI – Festival Sweets" hosted by Srivalli. JFI is the brainchild of Indira of Mahanandi.
Also sending this to "Original Recipes" event hosted by Lore.