Presenting another kind of laddus made with pitted dates in celebration of my 150th post today. Actually I made these laddus during Navarathris. I found this recipe on the box of pitted dates that I bought from the store. It sounded so easy and delicious, so tried it and voila! A delectably sweet laddu came to life. This is very easy to make too!
As we all know, dates are rich in fiber and provide essential vitamins and minerals. Many other nutritional values of dates can be found here.

Ingredients:
1 cup of pitted Dates


1 stick of Butter


1 cup of Brown Sugar


4 tbsp Water


1 tsp Vanilla Essence


1 cup of Rice Crispies Cereal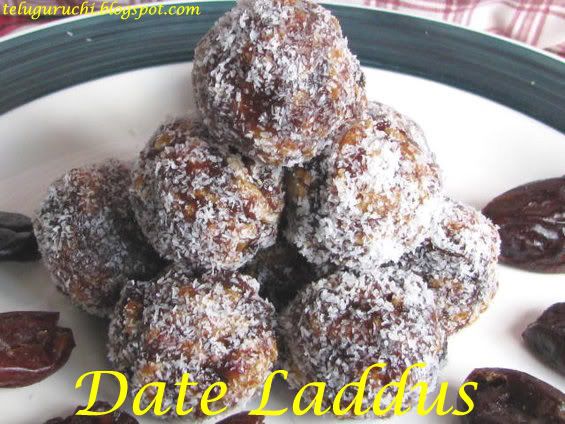 Preparation:
Heat a non-stick pan and add butter. When the butter melts, add the dates along with the sugar and water.
Cook the above mixture for 10 to 12 minutes over medium heat or until the mixture thickens like a paste. Keep stirring now and then.
Then remove from the heat and add vanilla essence and rice crispies and mix well.
Allow the mixture to cool enough to touch and roll into small balls.
Roll these balls again in finely shredded coconut or powdered sugar. I rolled in coconut.
These laddus can be stored in an airtight container up to a week to 10 days.
These laddus are my contribution to the following events: