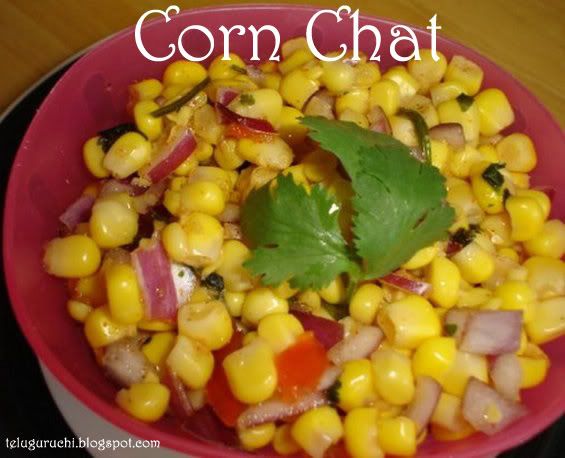 Here is a quick snack which is healthy and filling, during those lazy weekends. I used two cans of cooked corn kernels (by discarding the liquid inside) for my chat recipe as it requires less work and will be ready in a jiffy. If you are using fresh corn on cob, make sure to boil those before removing the kernels.
Some useful tips in choosing good corn and various methods of cooking it can be found at this website – Learn about Corn. I found this by accident, and thought it is so useful to learn about corn.
Ingredients:
2 cups of Corn Kernels, cooked
1 small Onion, cut into fine pieces
1 small Tomato, cut into fine pieces
A handful of Cilantro, chopped fine
½ tsp Chat Masala (Optional)
½ tsp red Chili Powder
½ tsp Lemon Juice
Salt as required
Method:
In a bowl, mix all the above ingredients, leave it for 5 minutes and enjoy as an evening snack or any time of the day whenever you feel like having a quick healthy snack.
If you wish to refrigerate the chat and eat it cold, mix all the above ingredients excluding cilantro and lemon juice and toss those in just before eating.
An Update:
As corn is a low fat food with loads of vitamins (C and A mainly) and fiber, it does serve as a diet food for health-conscious people. I just realized dear Divya Vikram of Dil Se... has annouced an event called "Diet Foods". I asked her if I can send this corn chat to her healthy event and she said yes. So CORN CHAT is making its way to the above event.
I am also sending this to "Sunday Snacks - Fix It" event hosted by Pallavi.
This is also my contribution to "Eat Healthy - During Pregnancy" event hosted by Sangeeth.