This is a great tasting Andhra delicacy made with the protein-rich Kandi pappu (Toor Dal, Pigeon Peas). This is so easy to make with a few ingredients. Here is my version of this yummy pachadi.
Note: I always make this oil-free, but you may add little oil while roasting the dal. You may also add few garlic flakes while grinding the pachadi.
Ingredients:
1 cup Kandi Pappu (Pigeon Peas, Toor Dal)
5 or 6 dry Red Chilies
1 tsp Tamarind Pulp
½ tsp Cumin Seeds
Salt
Preparation:
Heat a pan and dry roast toor dal + red chilies + cumin seeds. Keep aside to cool.
When it becomes cold grind into a fine (a little coarse is ok) paste by adding tamarind pulp and salt. Add little water as needed.
Enjoy this yummy pachadi with steaming hot rice and a dollop of ghee. Yummy!!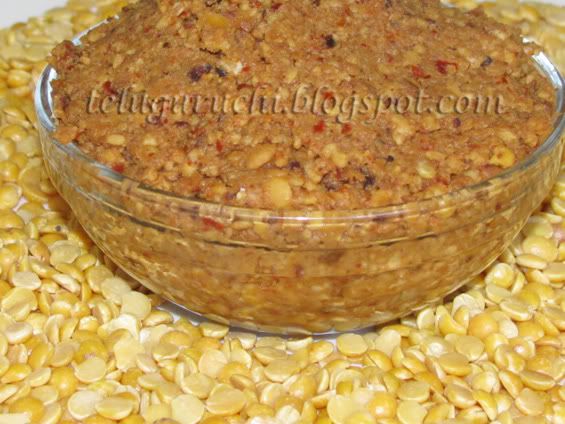 On a Different Note:
Dear blogger friends have generously passed some awards to me. I am sorry if I took a long time in acknowledging them!!
Thank you Sreeleka Sumesh, Babli, Suma Rajesh for these awards!! Thanks for thinking about me. :)