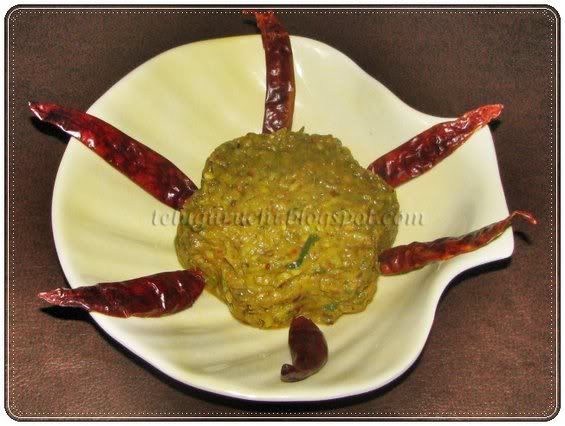 Looks like I haven't posted anything since last Tuesday. I was completely down with cold and cough and I couldn't sit near the computer to type anything. My hubby and daughter took charge of the house and treated me like a small baby! Today I feel little better (still coughing while typing this!) so thought of posting a simple chutney from my archives.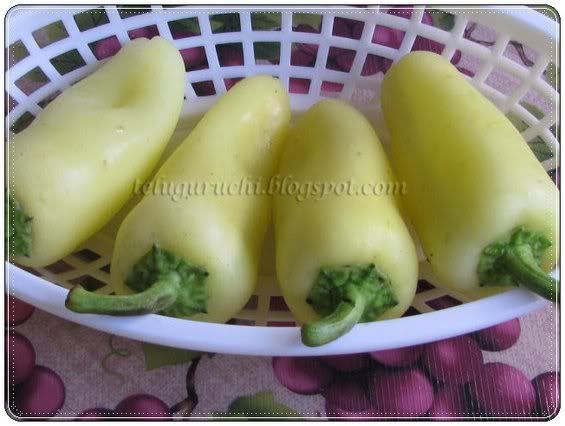 Ingredients:
3 cups Yellow Chilies, chopped
3 tsp Oil
¼ cup Coriander Seeds (Dhaniyalu, Dhaniya)
½ tsp Turmeric
¼ tsp Asafetida (Inguva, Hing)
¼ tsp Fenugreek Seeds (Menthulu, Methi)
¼ tsp Cumin Seeds
A handful of Cilantro (Kottimeera)
½ tsp Tamarind
Salt

Method:
Heat 2 tsp oil in a pan; add the chilies + turmeric and sauté well for some time. Transfer the chilies to a plate and keep aside to cool.
Add rest of the oil (1 tsp) to the pan and add cumin seeds + coriander seeds + asafetida + fenugreek seeds and sauté well for some time. Finally add cilantro and mix well. Transfer the contents to a plate and let them cool for some time.
Later grind all the ingredients into a smooth paste along with tamarind and salt. Add little water if needed. Don't make it too watery. Adjust salt.
Enjoy with hot rice and ghee.

Note: These chillies are mild. So if you want more spicy, add some chillies or chilli powder.
Update: Oopsy! I confused you all with my silly little note! Actually these chilies are so hot and spicy in taste. If you want to lessen the spiciness, just deseed the chilies and use in chutney. I just wrote the other way, don't know why! Please ignore the note. I stroke it off!
Thanks for correcting me Asha and Vibaas! :)