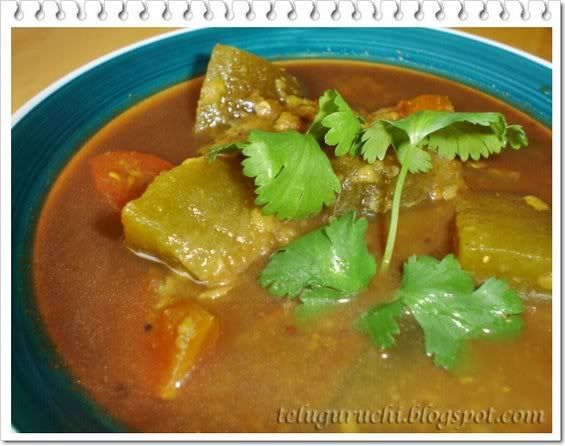 This is the yummiest sambhar I ever made. This is a little sweet and sour in taste. I usually prepare such sambhars with ripe mangoes, sweet potatoes, apples etc. I thought why not try to make this with honeydew melon and I tried it. Everyone liked the taste so much and enjoyed it heartily.
Ingredients:
3 fistfuls of Toor Dal (Kandi Pappu)
1 cup of honeydew melon peeled and cut into pieces (approx.)
1 or 2 Tomatoes, chopped into pieces
A few Curry Leaves
A handful of Cilantro
½ tsp Mustard Seeds
¼ tsp Cumin Seeds
1 tsp Oil
A pinch of Turmeric
A pinch of Asafetida (Inguva, Hing)
1 tsp Sambhar Powder
1 tsp Tamarind Pulp (or as required)
1 tsp Sugar
1 tsp Chili Powder (I didn't add this as my kids wanted it non-spicy)
Salt

Preparation:
Pressure cook toor dal until it's done. Keep aside.
In a bowl heat the oil and add mustard seeds. When they splutter add cumin seeds and fry for 2 seconds.
Then add curry leaves + tomatoes + melon pieces + turmeric + sambhar powder + asafetida to the bowl and stir well. Add the chili powder too if using. Add a small amount of water just to soak the melon pieces, cover and leave the bowl for some time on medium flame.
After some time check if the melon pieces are soft (don't let it turn too soft and mushy). If they are soft, add the cooked dal along with tamarind pulp and sugar and stir well. Add some more water and let the sambhar cook for some time more until it comes to a boiling point. Add salt and cilantro and mix well.
You can feel the aroma while this yummy sambhar is cooking. It fills the whole house with hunger with its aroma!

Switch off the flame and enjoy hot sambhar with steaming rice and some ghee (optional). I bet you can't stop yourself with one serving of this yummy sambhar!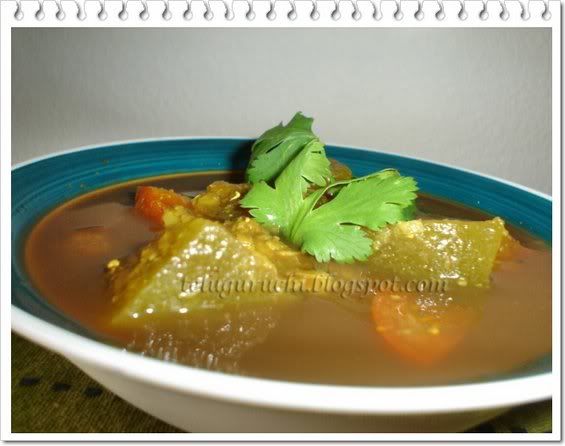 This is my contribution to "WYF: Side Dish" event hosted by EasyCrafts.