These days I haven't been contributing much to the events in the blogosphere, as I couldn't prepare something specifically for these events due to the moving and stuff. Now I am settled and relaxed. So I would do more cooking for the events in the coming days (hopefully)!
I made this recipe yesterday for Dhivya's "A.W.E.D-French" event. I searched a lot for some French dessert recipes and finally landed on this simple but yummy dessert recipe. These tasted so delicious and I can definitely say that these would be a hit among kids as well as grown-ups.
Here goes the recipe:
Ingredients:
3 Apples (Any kind, I used Gala Apples)
½ cup Milk
½ cup All Purpose Flour
¼ cup Sugar
Oil to deep-fry

Preparation:
Peel, core and slice apples into thin crescents. Keep aside.
Take milk and flour in different bowls.
Meanwhile, heat the oil in a deep-bottomed pan. When the oil is hot, dip each apple slice in milk, roll in the flour and drop carefully in the hot oil. Repeat the same process with all the apple slices.
Deep-fry the dipped and rolled apple slices until they turn golden brown in color. Then take them out from the oil and place on a paper towel to absorb excess oil.
After all the apple slices are deep-fried, transfer them to a mixing bowl, pour the sugar on top and shake the bowl so that all the slices are coated well with the sugar.
Note: You may reduce the sugar to a small amount if you don't like too sweetness.
Enjoy these yummy fried apples any time of the day. I think this will be a healthy snack for kids as it is made of a fruit.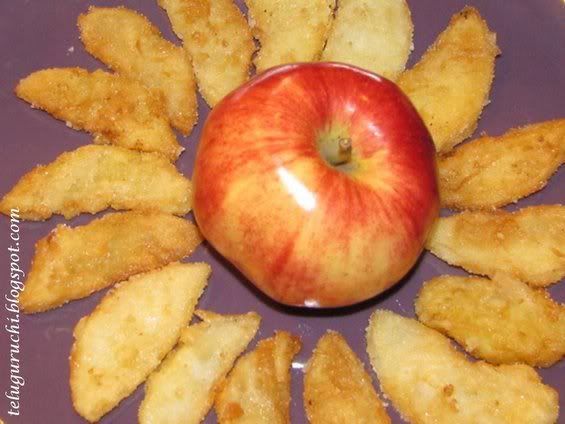 As I already told before, this is my contribution for Dhivya's "A.W.E.D-French" event.
I think this will make a nice entry for Trupti's "Recipes for the rest of us - Picnic Eats" event too as it involves very less work.