This is a classic Mexican dish I found in my recipe collection. I thought it would be perfect for Vaishali's "It's A Vegan World: Mexican" event. Original recipe said, "For extra good flavor, use small cubes of smoked cheese, and serve with rice". But I omitted it as cheese isn't considered as a vegan food! Original recipe also said that this delicious dish is well known as a "bowl of red".
Ingredients:
2 cups red Kidney Beans (I used 2 cans of beans, drained)

1 tsp Oil (original recipe said 3 tbsp oil)
1 Onion, chopped
1 red Bell Pepper, chopped
2 Garlic Cloves, crushed

1 fresh red Chili, chopped (optional) (I used dry red Chili as I don't have fresh ones)

1 tbsp Chili Powder, (mild or hot) (I used just 1 tsp)
1 tsp ground Cumin (I used ½ tsp Cumin Seeds)
2 cups Water
½ tsp ground Black Pepper
1 tsp Sugar
Salt as required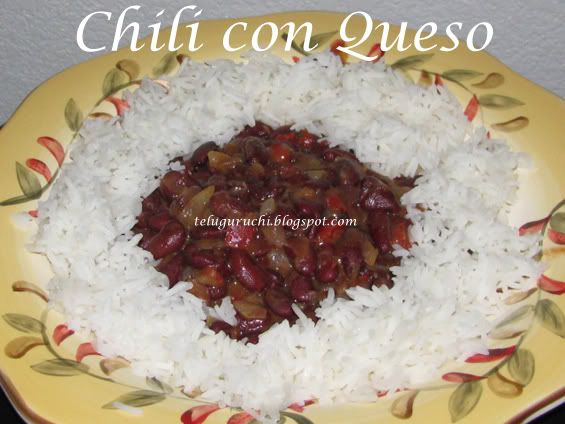 Preparation:
Heat oil in a large saucepan and gently fry the onion, bell pepper, garlic and red chili for about 5 minutes until onions become soft and cooked.
Stir in the chili powder + cumin and cook for another minute. Then add the beans + water + black pepper. Don't add salt at this stage.
Boil for 10 minutes, cover and keep the flame on medium setting. Cook until all the water is absorbed.
Note: If using fresh kidney beans, soak for some time before cooking. Also add more (up to 4 cups) water so that the beans are cooked well.
When the beans are tender, add salt and mix well. Remove about a quarter of the mixture and mash to a pulp or pass through a food processor.
Add this puree to the rest of the beans in the pan and stir well. Add sugar and serve hot. If desired, eat with the cheese sprinkled on top.
This tastes great with plain cooked rice. But, I should warn you; this dish is so spicy with all the chili powder and black pepper. So add them as per your taste.
This is my contribution to the following events:
On a different note, I would like to thank AnuSriram for passing me the "The Adorable Blog", "Amazing Blog", "Triple Award" and "One Lovely Blog" awards. So nice of you Anu!