I always look for new curry recipes to go with rotis/puris/rice. Mostly I end up with my own, imaginative recipes. I found this interesting and delicious curry recipe for puris in one of my cooking books. It was filed under Kashmiri Recipes. It tasted so great and was so filling too!
Ingredients:
3 large Potatoes
2 medium Tomatoes
1 medium Onion
1 cup Green Peas
2 Green Chilies
1 tsp Red Chili Powder
1 tsp Garam Masala
½ tsp Turmeric Powder
A small piece of Ginger
1 or 2 cloves of Garlic
A handful of Cilantro
2 tsp Oil
Salt as required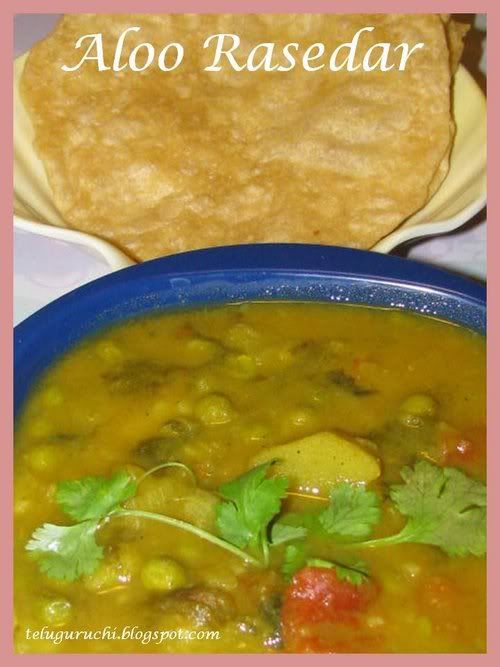 Preparation:
Peel, wash and cut potatoes into big/small chunks. Chop onions, tomatoes, green chilies, ginger and cilantro into small pieces.
In a pressure pan, add oil. When it is hot, add all the chopped veggies and fry for some time. Then add turmeric, chili powder and garam masala and fry for some time.
Finally add green peas and salt. Mix well and pour some water (approximately a cup). Cover pressure pan with lid and wait for 3 whistles. After all the pressure is gone, carefully open the lid and mix the curry well. Adjust salt.
If the curry became too watery, try this trick: Mix 1 tsp of rice flour with little amount of water and pour into the curry when it is still hot, to make the gravy thick. Make sure there are no lumps.
Garnish with some chopped cilantro and enjoy hot with some rotis/puris.