As the deadline for Zlamushka's Tried & Tasted event is approaching, yesterday I went for a stroll in Sia's Place. As we all know, Sia is admired not only for breathtaking pictures but also for her delicious recipes. So after spending at least an hour (seriously!) at her place, trying to make a hard decision what to select, this Goli Baje recipe caught my attention. This was so easy to make and tasted delicious too. Thanks for such a wonderful recipe Sia!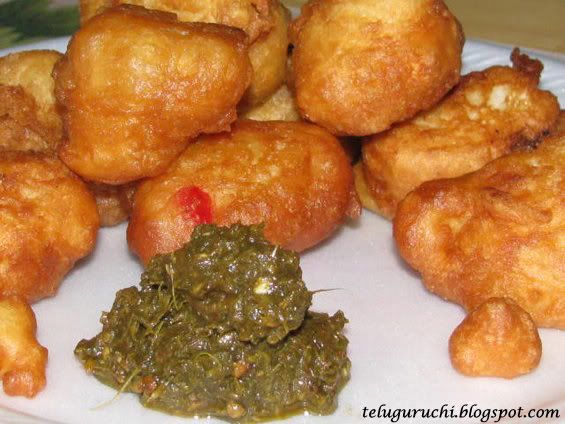 Goli Baje served with Cilantro Chutney
I followed her original recipe to the letter. The little changes I made were, adding dried ginger powder instead of fresh ginger as I don't have it on hand and using all purpose flour instead of maida/plain flour as suggested in the original recipe.
Anyway, I will give the recipe in the way I did.
Ingredients:
1 cup All Purpose Flour


1 cup Buttermilk


4 small green Chilies


½ tsp dry Ginger Powder


¼ tsp Baking Soda


Salt to taste


Oil to deep fry


Preparation:
Mix all the ingredients above except oil and make a thick paste.
Keep it covered for 2 hours (Sia suggested to keep it for 2-3 hours).
Heat the oil in a deep-bottomed pan. When it is hot, take small portions of the batter or paste with a spoon and drop carefully in the oil. Be careful not to burn your hand.

Deep fry them until they turn golden brown in color. Keep the flame in medium setting.
Serve hot with any desired chutney and a cup of hot tea/coffee.

These Goli Baje tasted so soft and delicious too. Thanks for the yummy recipe Sia!
In the original recipe Sia suggested to serve these with
coriander chutney
for which also she provided a recipe. But I didn't make her chutney as I have the
cilantro pickle
we made some days back resting the refrigerator. So I used that pickle for dipping these yummy Goli Baje.
Goli Baje served with Cilantro Chutney
I am Sending these Goli Baje to
Zlamushka's Tried & Tasted: Monsoon Spice
.
Wait, wait! I forgot one more event!!!