This is the most delicious pickle I ever had. Cilantro pickle not only tastes great but also smells great. Hubby dear made this on Saturday for lunch. Just look at the color! I am a great fan of the green color.
Ingredients:



A bunch of Cilantro




¼ cup Coriander Seeds (ధనియాలు)




3 or 4 Green Chilies




¼ tsp Turmeric




1 tsp Black Gram (Urad Dal) (మినప్పప్పు)




½ tsp Tamarind Paste




2 tsp Oil




1 tsp Cumin Seeds (జీలకర్ర)




2 Red Chilies




½ tsp Fenugreek Seeds (మెంతులు)




A pinch of Asafetida (ఇంగువ)




Salt

Method:
Heat 1 tsp of oil in a pan and add the cumin seeds + coriander seeds + fenugreek seeds + black gram dal and fry until those turn golden brown. Then transfer those to a plate and keep aside.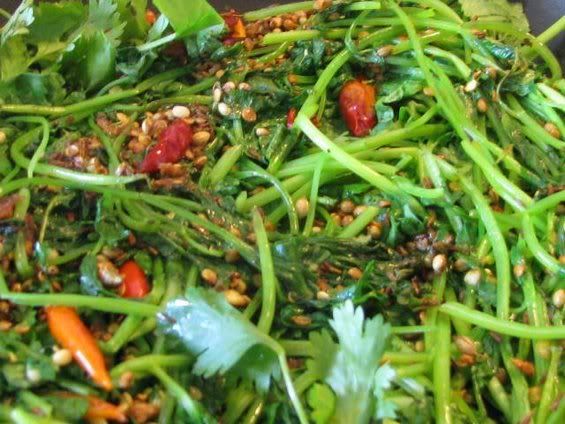 In the same pan heat the rest of the oil and add the cilantro leaves. Fry until the leaves loose the shape and texture. At the final stage, add the green and red chilies along with the turmeric and asafetida and stir well. Then transfer the contents to a different plate and leave aside to cool.
When all the contents are cool, grind those into a fine paste by adding the tamarind paste and the salt. Add little water if required. The pickle should be thick in consistency. Adjust salt and spice level according to your taste.
Enjoy this yummy cilantro pickle with hot rice and ghee.

I am sending this pickle to two events: