Mung Bean sprouts are rich in protein and vitamins C and B complex. I added these to the regular pappu to make it healthier. It tasted so delicious too.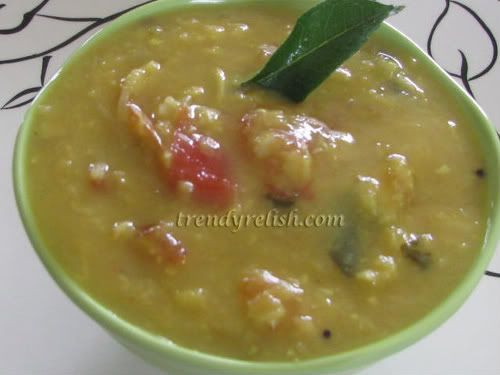 Ingredients:
1 cup Pigeon Peas (Kandi Pappu, Toor Daal)
¼ cup chopped Mung Bean Sprouts
2 Tomatoes, chopped
2 to 3 Green Chilies
1 tsp dry Coconut powder
A small piece of Ginger
Few Curry Leaves
Few Cilantro Leaves
1 tsp Oil
½ tsp Mustard Seeds
¼ tsp Cumin Seeds
A pinch of Asafetida (Inguva, Hing)
A pinch of Turmeric
Salt
Preparation:
Wash and pressure cook toor daal for 3 whistles (until cooked).
Meanwhile, grind ginger + green chilies + coconut powder into a fine paste.
Heat oil in a pan/bowl and add mustard seeds. When they splutter, add cumin seeds + ginger paste + tomatoes + curry leaves + asafetida + turmeric and sauté well for some time.

Then add chopped bean sprouts and pour little water and allow the sprouts to cook for some time and become soft.
Later add cooked daal and mix well. Add salt as required. Keep it on low flame until bubbles are formed on top, mix well and turn off the flame. Finally add chopped cilantro and mix well.
Enjoy this yummy and healthy pappu with rice or chapathis.
Yummy!!
On a Different Note: