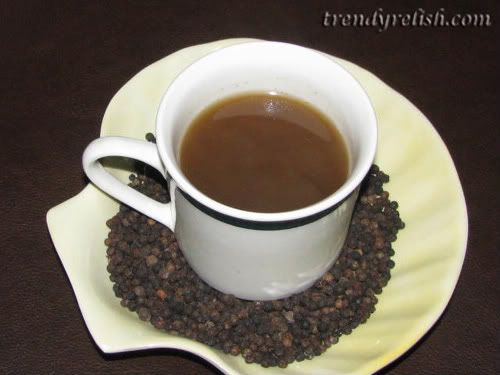 This year the spring season has been worst for us. I like spring for the beautiful weather, but don't like it for the allergies it brings. DH has got allergies like itchy eyes and dry cough. The cough shows its power especially during nighttime so that ruining the sleep. I always think that home remedies are the best methods to control these little but irritating ailments. What do you think?
Today I am going to post about a good old remedy for cough that works like magic though many people don't like it for the strong/pungent taste. But it worked for DH very well. He says it feels so good after drinking it. If you take this 2-3 times a day (just ¼ cup is fine) the cough will subside to a large extent.
Ingredients:
1 cup Water
½ tsp Black Pepper Powder
½ tsp Coriander-Cumin Powder
1 ½ tsp Sugar
A few fresh Basil Leaves (Optional) (I didn't add these as I don't have them on hand) (But it will be good if you add them)
Preparation:
Pour water in a small bowl. Add pepper powder + coriander-cumin powder + sugar + basil leaves and mix well with a spoon.
Bring this water to a boil and turn off the flame. Filter to remove extra pulp and pour into a cup or a glass.
Try to drink it when it is still hot as it is good for the throat. If you can't handle too much hotness just let it become little cold (but not too cold) and drink.
This is the best home remedy for coughs. There are some other types of good kashaayams too which are equally good. I will try to blog about them in future!