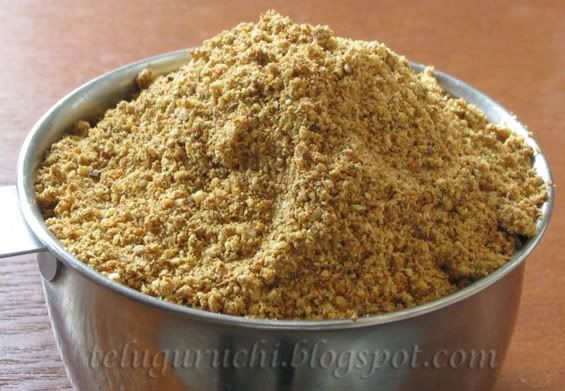 I never knew about these flax seeds before. Thanks to blogging, I came know many such good things. Flax seeds have very high nutritional values. They are good sources of omega 3 fatty acids and lignans that help to fight cancer. Flax seeds are full of fiber and helps in weight management too. There are many health benefits we can get from these flax seeds. So it would be better if we include these amazing seeds in our daily cooking.
Image Source: http://www.strollerstrides.com/blog/wp-content/uploads/2009/06/flaxseed1.jpg
I tried to prepare a spice powder with these flax seeds and it was a hit in my family. Try it yourself and taste the health and deliciousness. And it involves very simple and fast preparation.
Ingredients:
½ cup Flax Seeds
1 cup Black Gram (Minappappu, Urad Dal)
¼ cup Coriander Seeds (Dhaniyalu, Dhaniya)
3-4 tsp Red Chili Powder (or according to individual taste)
Salt
Preparation:
Dry roast all the ingredients except chili powder and salt. Leave aside for some time to cool.
Add these roasted ingredients to a blender along with chili powder + salt and grind into a fine powder.
Enjoy this yummy, spicy and healthy powder with rice/dosas/idlis.