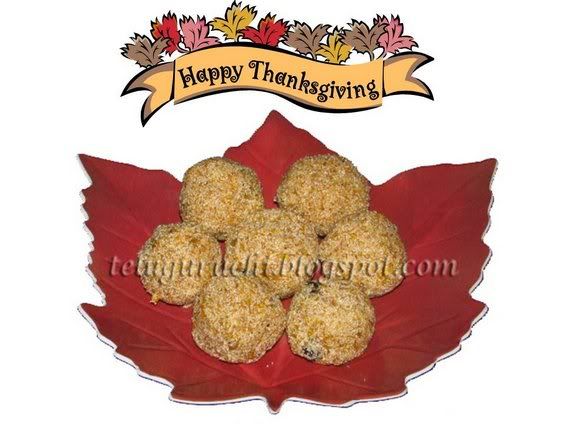 A new treat for the thanksgiving from me!! I have been thinking of making something new for this thanksgiving, so came up with this idea of making laddus with pumpkin. I am so happy that it turned out so delicious and everyone liked them.
Ingredients: (Makes 25 medium-sized Laddus)
1 cup Pumpkin Pulp (canned or fresh) (If using fresh, check out

this recipe

where I gave step by step instructions for making fresh pumpkin pulp from scratch)

2 cups Semolina (Upma Rava)
½ cup grated Coconut (fresh or dry)
2 cups Sugar
2 tsp Ghee
Some broken Cashews
Some Raisins
Some Cardamom Seeds/Powder
Preparation:
Dry roast semolina until it turns golden brown. Then transfer to a plate and keep aside.
In the same pan heat ghee and add cashews + raisins and fry till cashews turn golden brown and raisins bubble up. Then add coconut and again fry till it changes color and turns into light brown.
Later add the pumpkin pulp + sugar and mix well. Keep stirring the mixture until all the sugar gets melted and the mixture attains a soft halwa stage.
Finally add the roasted semolina to the pan and mix very well so that no lumps are formed. Keep stirring the mixture gets thickened (until 2 minutes). Turn off the flame and leave the pan for some time until the mixture cools down and is easy to touch.
When it is cool enough to touch, take small portions of the mixture and make into balls of desired size. Spread on a plate to dry for some time until it gets hardened.
Please Note: As we added pumpkin pulp, it takes a little more time for the laddus to harden.
(But as we couldn't wait for the laddus to get hardened, we ate them as soon as the laddus are made. They still tasted great, but were little soft and chewy.)
Enjoy these yummy laddus any time of the day. This is my thanksgiving treat for my family.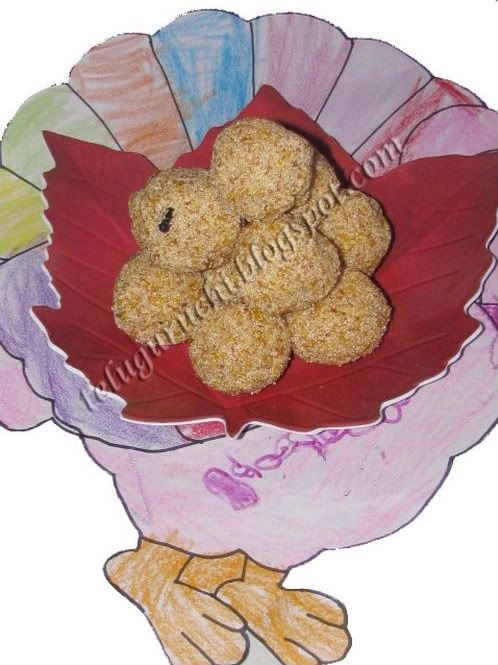 Here are some more yummy ideas for the thanksgiving:
I wish you all a VERY HAPPY AND FUN-FILLED THANKSGIVING!!