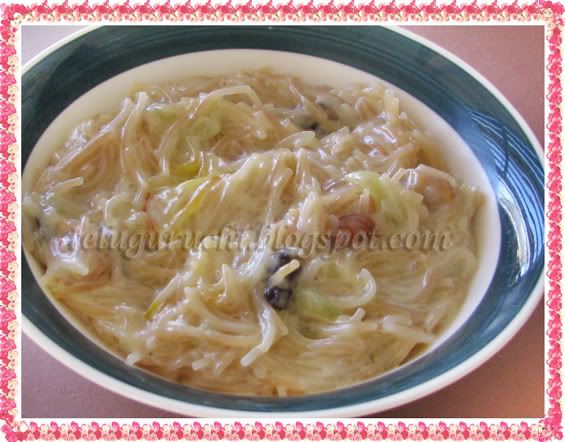 Hope you all had a wonderful Deepavali!! As usual, my mind started tickling me to do something different from the routine cooking. Don't be scared, I didn't make any dangerous experiments on the festive cooking :) I added just a little something to the regular payasam to make it more pleasing and yummy. I wanted to sneak in healthy fruits in the payasam that kids like very much. And I was successful. Everyone liked it so much and said it was more delicious than regular payasam. YAY! My experiment didn't fail. I think we can also add other fruits like apple, other melons, pears, bananas etc. to the payasam just to make it more delicious and healthy.
Ingredients:
1 cup grated Honeydew Melon (after the skin is removed)
1 ½ cup Vermicelli (Semiya)
1 cup Water
3 cups Milk
1 ½ cups Sugar
2 tsp Clarified Butter (Neyyi, Ghee)
Some Cashews, Raisins, Cardamom and Saffron
Preparation:
Dry roast vermicelli until light brown and keep aside.
Heat 1 tsp of ghee in a pan and add grated melon. Sauté for some time until the water from melon starts to ooze out. Then add fried semiya and mix well. Pour a cup of water so that semiya can cook well and become soft.
Later add sugar and finally milk, mix well and leave the pan on medium flame until milk comes to a boil and payasam thickens a little bit.
In a different pan heat rest of the ghee and add cashews + raisins + cardamom seeds and fry well until cashes turn golden brown and raisins puff up. Pour this on top of the cooking payasam. Mix well.
Finally stir in saffron, mix well and turn off the flame. Let the payasam cool down for some time and enjoy.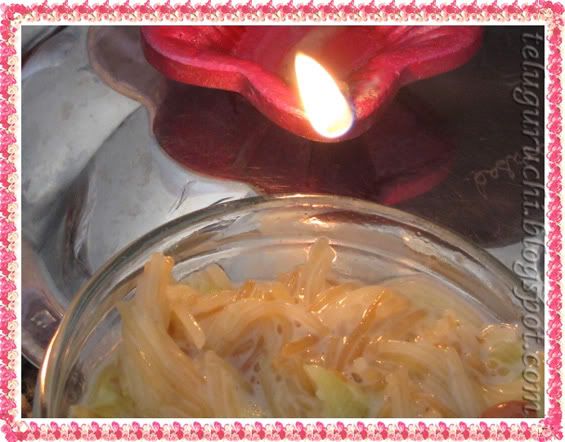 This is my contribution to the following events:
Sweet Series, hosted by Sireesha.
Diwali Dhamaka, hosted by Purva.
FIL: Ghee, hosted by Sanghi.