I always try to use yogurt/curd in different dishes due to its health benefits. It cools down the body and gives strength to our bones. And it is so good for the stomach and helps to develop good immune system. This time I added spinach to it for added benefits. As we all knew, spinach is low in calories and high in vitamins. It provides a lot of health benefits for our body such as strong bones, smart brain, energy, good eye sight etc….
I tried this combination for the first time, though I heard about spinach raita many times. This goes very well with rice and chapathis. I made this when we had some guests over for the weekend and everyone liked it so much. But I couldn't click good pictures of the dish as everything was almost out!!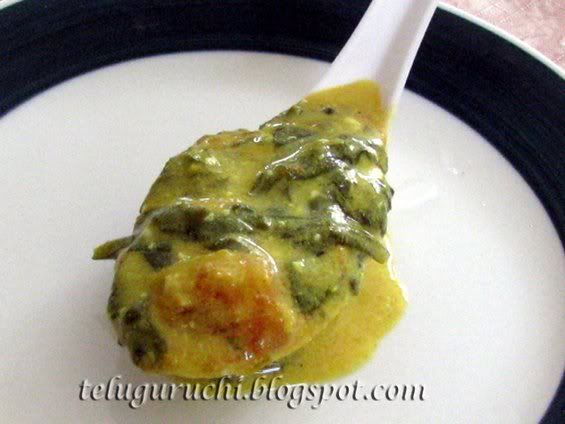 Ingredients:
1 cup chopped Spinach (fresh or frozen)
2 cups plain Yogurt
1 Tomato, chopped
2 or 3 green Chilies, chopped
½ tsp Rasam Powder
½ tsp Coconut Powder, dry
½ tsp Turmeric Powder
A pinch of Asafetida (Inguva, Hing)
Some Curry Leaves
Some Cilantro Leaves
½ tsp Mustard Seeds
¼ tsp Cumin Seeds
Salt to taste
1 tsp Oil
Preparation:
Heat oil in a bowl/pan and add mustard seeds. When they splutter add cumin seeds and stir well.
Then add curry leaves + cilantro and stir well. Later add chopped spinach + tomato + green chilies + rasam powder + coconut powder + turmeric + asafetida and mix well with a spatula.
Pour some water (approx. 1 cup) just enough to soak the added items and cover. Let the spinach mixture cook well for some time.
Later when you feel spinach is cooked well, add yogurt and mix very well. Add salt and turn off the flame quickly as yogurt tends to break apart.
Enjoy this yummy spinach yogurt pachadi with rice/chapathis.