Hope all of you (mothers) had a wonderful Mother's Day! I also had a nice one just like last year.
Now coming to the recipe, this is a delicious and aromatic Andhra delicacy. This is so simple to prepare too! Here is my version of this yummy powder. At our home we call these dalia as "Thinae Senagapappu" in Telugu. But these are well known as "Putnaala Pappu" in most of Andhra Pradesh.
Ingredients:
1 cup Roasted Bengal Gram (Putnaala Pappu, Dalia)
1 tsp Cumin Seeds
2 or 3 flakes of Garlic, skin removed
2 tsp dry red Chili Powder (adjust according to taste)
Salt


Preparation:
Add all the ingredients in a blender jar and grind into fine powder. That's it, a very delicious spicy powder is ready for you to enjoy.
Here are some ways to enjoy this yummy powder:
Mix with steaming hot rice with a dollop of ghee and eat. After you eat one bite of this, you can't control yourself from having a second serving.

If some desiccated coconut is added to the powder while grinding, it can be mixed it with some yogurt or water to make instant chutney for dosas/chapathis.

Sprinkle some dalia powder while making curries to make them taste more delicious and aromatic.

Sprinkle on top of dosas while making Errakaram Dosas (I'll post this some time). The taste will be heavenly!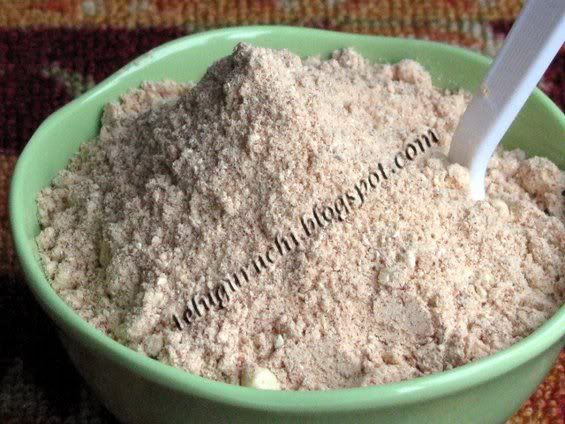 This is my contribution to Mahimaa's "15 minute cooking" event.