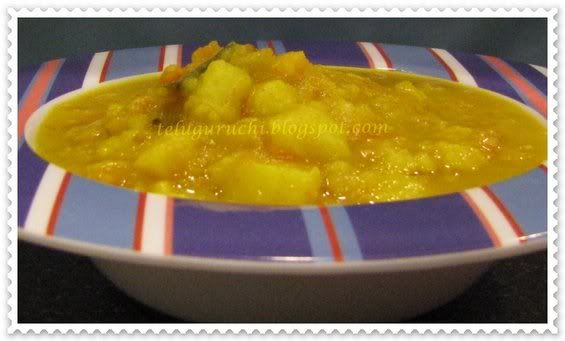 Are you looking for ways to sneak in healthy vegetables in your kid's food? Me too! These days, it's getting so difficult to make the kids eat healthy stuff. Same with my kids too! So I always sharp my brain to find ways to sneak in healthy vegetables into their food. This curry is one among those sneak ins. My kids like potato curry so much, so thought of making it healthier by adding some celery to it, but not visibly. Celery is an excellent source of Vitamin C, which helps build a healthy immune system.
Ingredients:
5 Potatoes, peeled and chopped into cubes
6 Green Chilies
1 Onion, chopped fine or lengthwise
2 Tomatoes, chopped
1 cup Celery, chopped into small pieces
A pinch of Turmeric Powder
1 tsp Oil
¼ tsp Cumin Seeds
½ tsp Rasam Powder
1 tsp Garlic Paste
1 tsp Ginger Paste
A few Curry Leaves
A handful of Cilantro
Salt to taste

Preparation:
Grind together celery + green chilies + cilantro into a fine paste. Add little water if needed. Keep aside.
In a pressure pan, heat oil and add cumin seeds. Then add chopped onion + tomatoes + ginger paste + garlic paste and stir well.
Later add curry leaves and rasam powder along with turmeric and mix well. Now add the chopped potatoes and the celery paste and mix well. Add a glass of water and salt. Cover and wait for 3 whistles.
When all the pressure is gone, check if the curry is thick and good. If it turned out so watery, mash some of the cooked potatoes with the back of a spatula. It helps to make the curry thick like gravy without ruining the taste. Adjust salt.
Enjoy hot with rotis/chapathis. This curry tasted so great with the subtle taste of celery. But I must tell you celery didn't dominate the original taste of potato curry. You can't even see the green color of celery in the curry! Nobody guessed I added celery paste in that!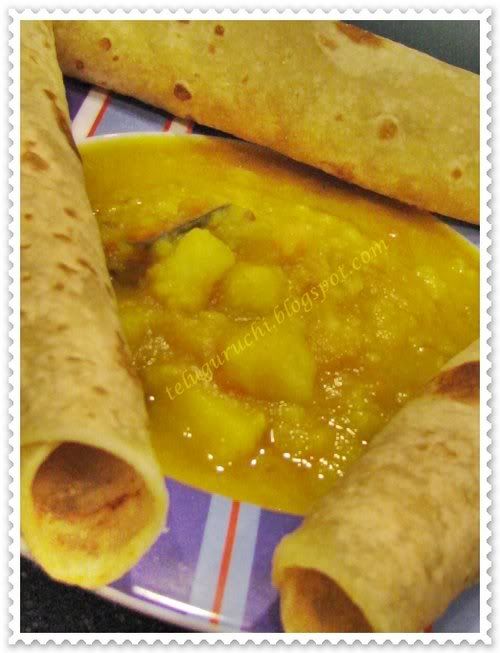 Note: This curry can also be made in a regular pan in the same manner.
This is my contribution to "Cooking for Kids Event- Potato", hosted by Deepa Hari. 'Cooking for kids' event is originally started by Sharmi of Neivedyam.