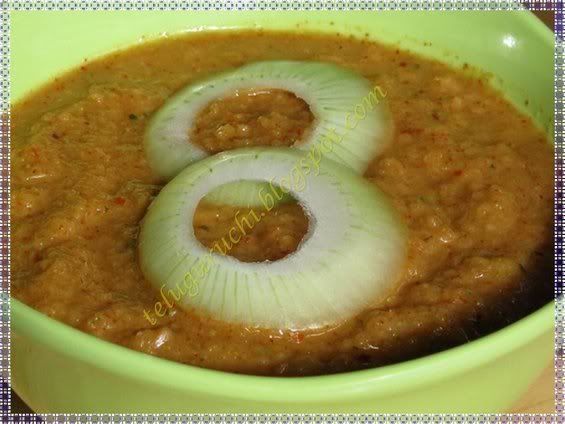 This is the easiest chutney that tastes heavenly. It goes well with dosas as well as rice. I usually use this chutney to smear on dosas to make them yummier and spicy.
Ingredients:
1 medium onion


1 tsp red chili powder


5 curry leaves (optional)


½ tsp Tamarind


Salt

Method:
Cut onion into big chunks. Heat a pan and add the onion pieces along with the curry leaves (optional). Fry for some time and remove from the pan.
When cool, grind it into a smooth paste along with the tamarind pulp + chili powder + salt. Add little water if needed. Yummy, yummy onion chutney is ready!
Enjoy as a dip for dosas or smear it on the dosas to make an onion roast dosa or just enjoy with hot rice and ghee.
This is my contribution to Ramya's "Chutney/Dip Mania".
On a Different Note:
Some days back Pavithra has passed the delicious "Lemonade Award". Thanks for your nice gesture Pavithra!