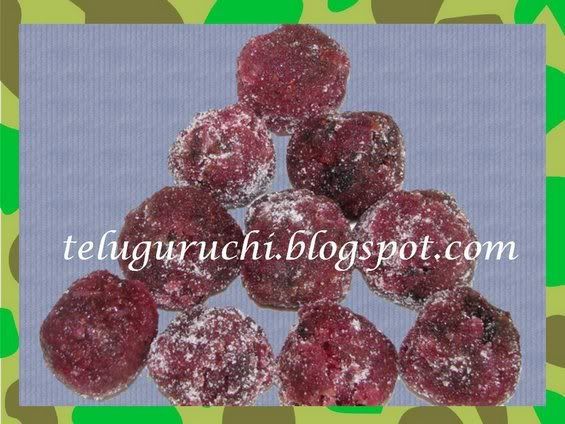 Hope you all had a great New Year's Day! Thank you all for your wonderful wishes!
I tried this combo (Cranberry-Coconut) on this New Year's Day just to make something different. At first, I was afraid how it would turn out! So made these laddus with my fingers crossed. I was amazed at the taste. A little different taste than the regular laddus, but they still tasted good. They were a little sour due to the cranberries and little sweet due to the sugar. Try these laddus only if you like sour taste! I must tell that the sour taste didn't dominate the sweet taste!
Ingredients: (Makes 20 medium laddus)
2 ½ cups fresh or frozen Cranberries
3 cups desiccated Coconut, sweetened or dry
2 cups Sugar
1 tsp Ghee (Clarified Butter)
¼ tsp Cardamom Seeds
Some Raisins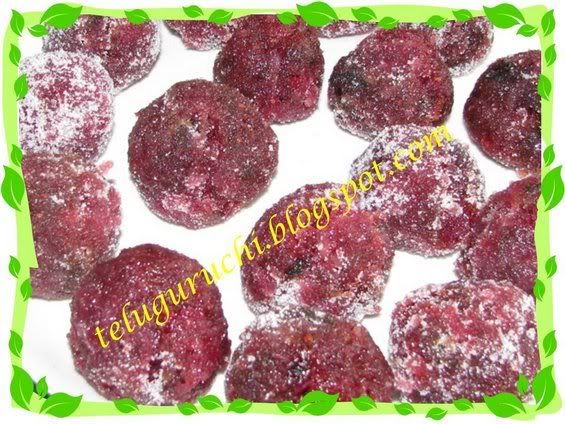 Preparation:
Coarsely grind the cranberries in a blender without adding any water. Keep aside.
Heat a non-stick pan and add ground cranberries along with rest of the ingredients and mix well. Keep the flame on medium setting and keep stirring the cranberry mixture. Make sure not to burn. Keep stirring until the mixture leaves the sides of the pan and switch off the flame.
Let the mixture cool down until it is easy to touch. Make round balls (any size) by taking small portions of the mixture and roll each ball in powdered sugar (optional). Place all the laddus on a plate and leave them for some time to dry.
Enjoy the laddus any time of the day.