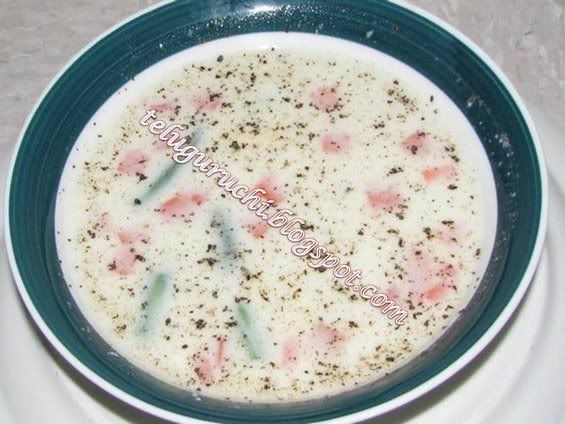 This is the delicious and filling soup I have ever tasted. I got the recipe from the book "Zero Oil: Soups, Salads & Snacks", written by Tarla Dalal, which I received as a surprise gift from Siri and Dhivya for winning the Open Sesame I Contest. It has been a while I received this book, but I haven't tried many recipes from this wonderful book. I felt angry on myself for not making any recipes till now and started my recipe journey with this wholesome soup! Expect more healthy soups, salads and snacks from this book in future!
Here goes the recipe.
Ingredients:
Low Fat Milk – 3 cups

Corn Flour, dissolved in 1 tbsp of water – 2 tsp (I used Rice Flour)

Crushed Cooked Sweet Corn – 1 cup

Finely chopped and boiled mixed vegetables (Carrots, French Beans, Cabbage etc.) – 1 cup (I used Frozen Mixed Vegetables)

Salt and Black Pepper to taste


Preparation:
Boil milk in a non-stick vessel with 2 cups of water.

Add the corn flour mixture, sweet corn, vegetables and salt. Let it simmer for another 5 to 7 minutes.

Add pepper and mix well. Enjoy this soup while it's hot! This is perfect for the cold winter.
This is my contribution to "FIC: White" event hosted by Lubna Karim. "Food in Colors" event is originally started by Sunshinemom.

This is also my contribution to "Eat Healthy - During Pregnancy" event hosted by Sangeeth.