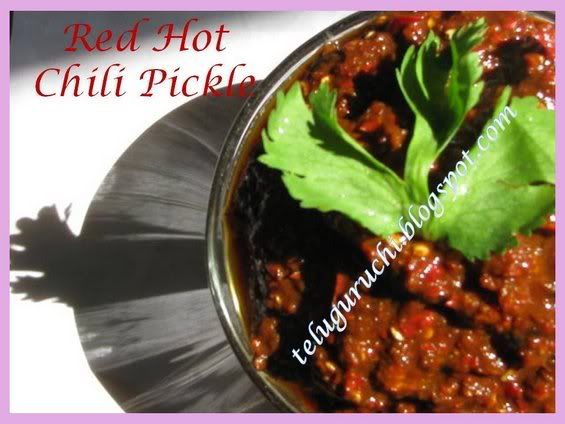 This is also another instant pickle that can be prepared in a jiffy just like instant cucumber pickle I posted before. No frying is required for this pickle, only grinding is required. Isn't that easy?
Ingredients:
1 cup fresh Red Chilies (not dry kind)


1 Tomato


2 tsp Tamarind Pulp


Salt
Preparation:
Remove stalks of the red chilies, wash well and wipe each chili with a clean kitchen towel or paper towel. The chilies should be dry with no moisture on them. Keep aside.
Cut tomato into medium pieces and add these to the mixer along with the red chilies + tamarind pulp + salt and blend into a fine paste. Do not add any water to this pickle. As tomatoes already contain some water in them, it is enough to grind the pickle. Adjust salt.
That's all! The red hot chili-tomato pickle is ready! This pickle goes well with both rice and dosas. When eating with rice, be sure to add ghee before mixing, as this pickle, as I said is red hot! It'll burn the tongue if eaten in a large quantity and without any ghee.
Only those who would like to eat spicy red hot stuff, try this pickle. And use only a little amount of pickle per serving as it is enough to spice up the taste buds!
Don't blame me later that I didn't warn you, :)
Here is a small trick that my hubby did to reduce the spiciness of this pickle! He dry roasted a handful of black gram (Urad dal, Minappappu) and a small piece of green bell pepper, added it to the pickle and ground it again by adjusting salt. It made the spice level go down a little. So if you don't like too spicy pickle, you can use this trick.