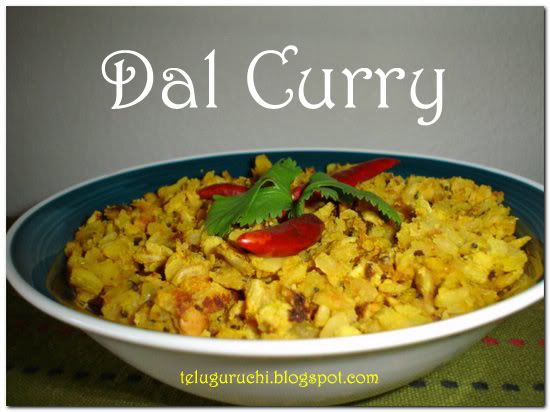 This is a simple curry made out of cooked dal. Whenever we ran out of vegetables, we prefer this delicious curry.
Ingredients:
1 cup cooked Dal (Toor Dal, Kandi Pappu)
1 small Onion, cut into tiny pieces
1 medium Tomato, cut into tiny pieces
2 or 3 green Chilies cut into tiny pieces (Optional)
½ tsp Turmeric Powder
½ tsp Lemon Juice (Optional)
Salt as required


For Seasoning:
½ tsp Mustard Seeds
¼ tsp Cumin Seeds
2 or 3 broken dry red Chilies
Some Curry Leaves or Cilantro Leaves
1 tsp Oil


Preparation:
In a non-stick pan, add oil. When the oil is hot add the mustard seeds. When the seeds splutter, add the cumin seeds + red chilies + curry or cilantro leaves and fry well.
Then add the onions + tomato + green chilies and stir well. Let those cook for a while. Then add the cooked dal along with turmeric + salt and stir well. Fry really well till the dal becomes dry and flaky.
At the final stage add the lemon juice, mix well and remove from the stove. Transfer the contents into a serving bowl and enjoy with hot rice and ghee.
Thank you dear Usha for passing me the "Good Job Award". So nice of you!