This is a healthy rice dish that tasted so delicious. The good thing about flax is that it doesn't have any smell, so that we can easily sneak it in most dishes. That way we can get good health benefits too. As we all know, flax seeds are so rich in omega-3 fatty acids which help to strengthen bones and protect from heart disease, cancer and diabetes.
Ingredients:
2 cups cooked rice
¼ cup green peas (I used frozen peas)
2 tbsp flax powder
2 or 3 cloves
1 tsp ginger-garlic paste
2 tsp coconut powder
2 tbsp oil
1 tsp garam masala
1 tsp black pepper powder
Few cashews
½ tsp Mustard Seeds
¼ tsp Cumin Seeds
1 small onion, finely chopped
Salt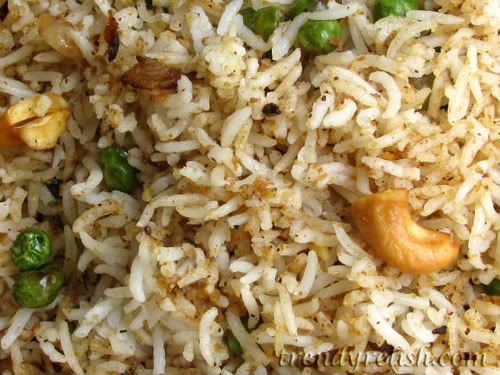 Preparation:
Heat oil in a pan and add mustard seeds. When they splutter add cumin seeds + onions and sauté well until onions become soft. Then add green peas + flax powder + cloves + ginger-garlic paste + coconut powder + oil + garam masala + black pepper powder + cashews and sauté well.
Finally add cooked rice and mix well with a spatula until it blends well with the masalas. Adjust salt. Cover and leave on low flame for 5 minutes.
Later mix well and transfer to a serving bowl. Enjoy this yummy and healthy rice with some curds and papads.