Hope you all had a wonderful Ugadi celebration! As we all know the special for Ugadi festival is the preparation of Ugadi Pachadi which is a fusion of six tastes (Shadruchulu) such as, sour, bitter, sweet, salt, spicy, pungent. I prepared this Ugadi Pachadi and also coconut halwa as a sweet treat.
Coconut Halwa recipe:
Ingredients:
2 cups grated coconut, fresh (frozen also can be used)
½ cup Rice, uncooked
½ cup Sugar
1 or 2 tsp Ghee
¼ tsp Cardamom Powder
For Garnish:
Cashews and Raisins, sautéed in some ghee
Preparation:
Soak rice in enough water for 2 to 3 hours or until rice becomes soft.
Grind the soaked rice and grated coconut into a very fine paste by adding some water. But don't make it too watery. It should be like a smooth paste. Keep aside.
In a non-stick pan pour sugar and add some water just enough to immerse the sugar (approx. ½ cup). Bring the sugar solution to a boil and wait till one string consistency is acquired.
Then immediately add the cardamom powder + ground coconut – rice paste and keep stirring until it becomes thick and leaves the sides of the pan. Just before turning off the flame, add ghee and mix well.
That's all! Great tasting coconut halwa is ready!!
Here are some serving ideas for this yummy halwa. But don't forget to garnish it with fried cashew and raisins.
You can either:
Grease a plate, spread halwa flat and cut into desired shapes when it becomes cool.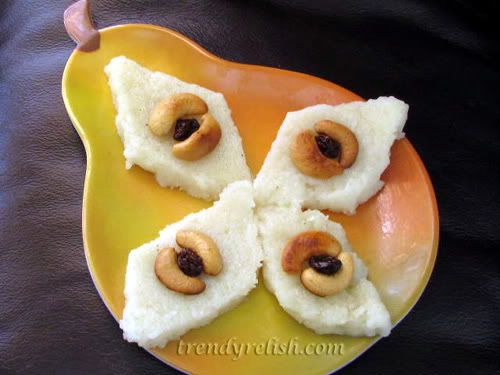 Or
Make shapes with a round bowl.
Or
Make into laddu shapes and serve.
Or
Make different shapes using Cookie Cutters.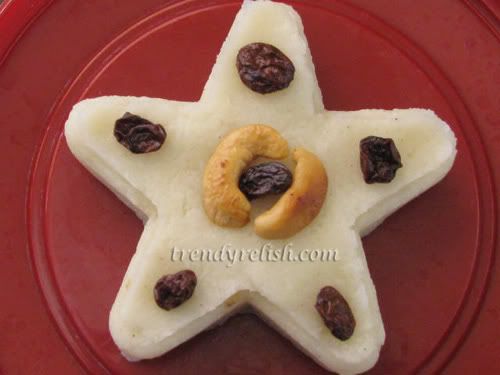 Or
Just simply serve in a bowl!!