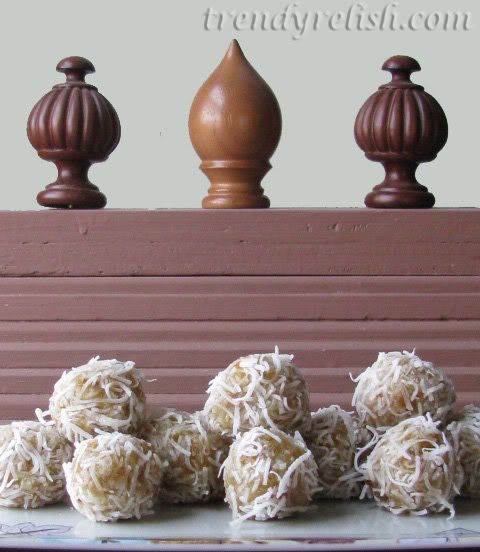 Hope you all had wonderful Pongal festivities. We had a good one too!!

Coming to the recipe, this is another crazy combination made by the great Uma (LOL). I made these on Pongal day. They tasted delicious.

On Bhogi day, I prepared
SWEET PONGAL
, URAD DAL VADAS, PULIHORA and some more dishes.
And to our pleasure, we were also showered with sweets by family in India and by some friends here.


Now to the recipe for Raisin – Coconut Laddus,

I used golden raisins for the recipe. These raisins are so soft and chewy, mainly used in baking. These tasted little sour so I had to add some sugar to make the laddus sweet.

Ingredients:

1 cup Golden Raisins
2 cups Grated Coconut, fresh or dry (I used 1 half of fresh coconut)
½ or 1 cup Sugar, depending on individual taste
1 tsp Ghee
½ tsp Cardamom Powder
Some extra grated coconut for rolling the laddus
Preparation:
Add raisins to a blender and grind into a soft paste. No need to add water.

In a pan heat ghee and add the raisin paste and sauté for a while.

To this, add grated coconut + sugar and sauté until the sugar melts and the mixture comes together and leaves the sides of the pan.

Add cardamom powder, mix well and turn off the flame. Let it cool down a bit.

Then take small portions of the mixture and shape into balls. Roll these balls in some grated coconut just to coat them.

Spread on a plate to make them harden. Enjoy the yummy laddus!!

Tip: If the laddus take longer time to harden, place them in refrigerator as it speeds up the hardening process.