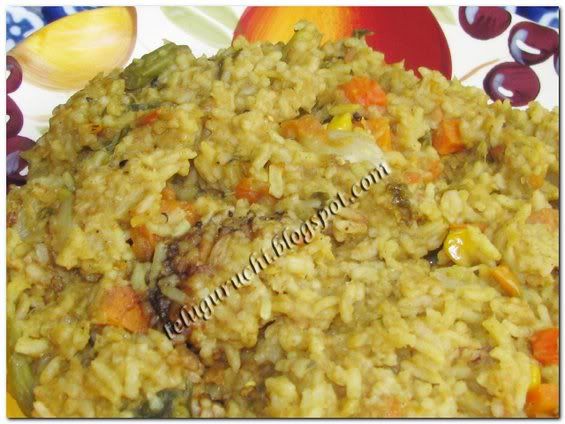 This is a Karnataka special, made with nice blend of flavors is always a hit. It tastes like sambhar bath but uses slightly different ingredients. One of my readers requested me to blog about this Bisibele Bath, I think 2 months ago (I know! I know!). I realized I didn't blog about it, so decided to make Bisibele Bath this weekend at any cost, and I did.
I didn't actually follow the traditional method (I mean making BBB powder) (I always want to escape from making something from scratch), so invented my own easy method. But trust me; it tasted just like the traditional BBB.
For your convenience, I will give both traditional and my easy methods. Of course, except for the powder part I mostly follow the traditional method.
Ingredients:
2 cups Rice

1 cup Toor Dal (Kandi Pappu) (can be replaced with Masoor Dal)

6 cups Water
1 big Onion, chopped
4 or 5 small pearl Onions
1 Tomato, chopped
A small piece of Carrot, peeled and cut into pieces
4 or 5 green Chilies, chopped
A handful of Mixed Vegetables (any of your choice)
1 tsp Tamarind Extract
½ tsp Turmeric Powder
½ tsp Mustard Seeds
¼ tsp Cumin Seeds
¼ tsp Bengal Gram (Pachi Senagapappu, Chana Dal)
¼ tsp Black Gram (Minapapappu, Urad Dal)
A few Cashews
A few Curry Leaves
A few Cilantro Leaves(Kottimeera)
Salt
1 tsp Oil
1 tsp Ghee (Neyyi, Clarified Butter)
To Grind into Powder: (Traditional)
My Masala (No Frying and No Grinding)

Coriander Seeds – 1 tsp
Fenugreek Seeds – ½ tsp
Desiccated Coconut – ¼ cup
Khus Khus – 1 tsp
Cloves – 4
Cardamom – 4
Cinnamon – A small piece
2 or 3 dry Red Chilies

(I always make sambar powder at home that

already contains red chilies and coconut,

but you can use store-bought Sambar Powder too!)

4 Whole Cloves
1 tsp Cinnamon Powder
¼ tsp Cardamom Seeds
Preparation:
If you wish to follow the traditional method, roast all the ingredients under "To Grind" using little oil and grind into a fine powder.
Wash and pressure cook toor daal until 3 whistles. Go, read a book or watch your favorite TV program until all the pressure is gone.
In a pressure pan, heat oil and add mustard seeds. When they splutter, add cumin seeds + Bengal Gram + Black Gram + cashews and fry until the dals turn golden brown in color.

Then add curry leaves + cilantro and stir well. Later add all the vegetables and mix well (no need to fry them for a long time).
Later add turmeric + tamarind extract and mix very well. Finally add the ground powders (or add the ingredients listed under "I Used", if you are following my method) and stir well.
Now it's time to add rice and dal. Wash rice well and add along with the cooked dal and mix well. Pour water and add salt. Mix well and put the lid on the pressure pan along with the weight on top. Wait for 3 whistles and switch off the flame.
After all the pressure is gone, slowly remove the lid and add ghee and mix BBB well. You can experience the wonderful aroma filling your house while this BBB is getting cooked.

Enjoy steaming hot BBB with some chips/papads/yogurt on side or just like that.