This is the easiest and yummiest curry that goes well with rice, chapathis, pooris and dosas. This is the most favorite curry in my family.
Ingredients:
3 Potatoes
1 medium sized Onion
2 Tomatoes
1 tsp red Chili Powder (can be replaced with green chilies)
Some Curry Leaves
½ tsp Turmeric Powder
A handful of Cilantro
Salt as required


For Seasoning/Tempering:
½ tsp Mustard Seeds
¼ tsp Cumin Seeds
½ tsp Black Gram (Urad Dal, Minappappu)
½ tsp Bengal Gram (Chana Dal, Pachi Senagapappu)
1 tsp Oil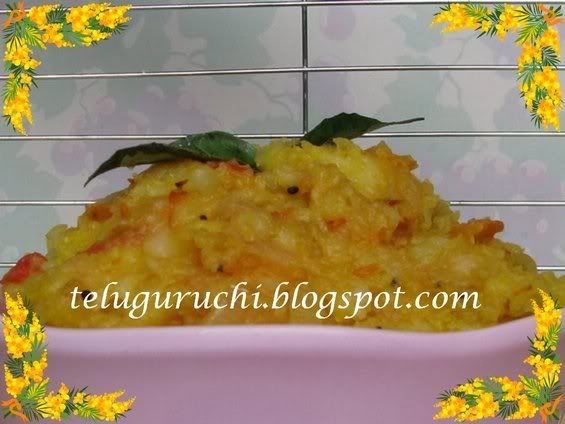 Preparation:
Boil potatoes, peel and mash well. Add turmeric + salt to the mashed potato and mix well. Keep aside.
Chop onions lengthwise or into small pieces. Chop tomatoes and green chilies (if using) too! Keep aside.
In a non-stick pan heat oil and add mustard seeds. When they splutter, add cumin seeds + black gram + Bengal gram and fry for some time. Then add curry leaves + onions + tomatoes + green chilies (if using) and fry till the onions become translucent.
Later add the mashed potato mixture and fry well. If using red chili powder add it at this point. Adjust salt. Leave the pan covered on low flame for some time.
Finally add cilantro and stir well. When the potato curry appears cooked well, switch off the stove and transfer the curry into a serving bowl.
Enjoy this delicious and easy curry with rice/chapathi/poori/dosas.
This is my contribution for "
FIC: Yellow
" event hosted by Sunshinemom of Tongue Ticklers.